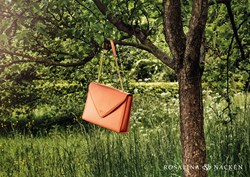 Shelle™ - representing power, femininity and strength like the sophisticated women
London (PRWEB) October 28, 2013
Rosalina Nacken is the first luxury-casing brand to design an elegant solution for carrying around the things you need most- your Android tablets or iPads (including the new Apple iPad Air to be released on November 1st in the UK). Rosalina Nacken understands that the increasing amount of working women need a product that is functional and versatile- something that will move with them easily from their busy day to a glamorous social evening. Rosalina Nacken therefore designed the Shelle™ - representing power, femininity and strength like the sophisticated women of today. The Shelle™ is a uniquely designed handbag and tablet case all in one. On the outside it is a gorgeous chic clutch, yet hidden inside is the Futura ("Future" in Italian), a premium leather tablet case, treated with a patented finish that is both scratch and water resistant to protect your device.
Rosalina Nacken is a fashion designer, entrepreneur and visionary. Her inspiration for her design was her acknowledgment that many of the devices we use today are either invented by men or made by men. This roused her mission to bridge the masculine world of technology and the feminine world of fashion. Her impressive educational background includes media, journalism and advertising and makes her appreciate the need for quality, trustworthy products.
"Life is not made for standing still, it is made to move, to explore, to become part of our surroundings but to also be individual and one of a kind," Rosalina Nacken says.
"Our unique Shelle™ concept provides elegance and luxury, which moves with you. It goes where you go and it fits with your life, but most importantly it stands out from the crowd."
On the online boutique, the handbag can be viewed in three outstanding colours, Rich Black, Limited Edition Poetic Peach and Royal Blue. Each bag captures Italian elegancy, made in a small idyllic village near Venice, using the best quality leather available.
The 'Move Life' campaign can also be viewed online, captured in a vivid short film representing Rosalina Nacken's philosophy and desire, which is "move life and life will move you".
Rosalina Nacken's vision was to design flexible and elegant handbags for ambitious women next to her mission to make each bag practical and classy. Each Shelle Classica and Shelle Futura comes with a unique serial number, a 100% made in Italy stamp and a genuine gold-coated logo all to verify its authenticity. Two real gold-coated chains with leather handles, one long, and one short, are included as a special gift to transform your tablet case into a chic evening clutch. These chains can be clipped on and off easily.
The luxurious brand realises that technology is continuously changing and improving and has therefore designed the handbag big enough to fit any iPad (including the new Apple iPad Air!), Android Tablet or 11-inch laptop. Included inside is a considerate amount of Jacquard lined compartments for an adapter, wallet, mobile phone and makeup essentials.
The online boutique makes ordering a Rosalina Nacken bag really easy for one to view product descriptions, use the zoom-in function to see intricate details, add an item to their shopping bag and checkout to pay. Rosalina Nacken is in the process of organising a bespoke function where one can order a bag with their personal details imprinted inside.
"We're driven by passion, to creative exclusive, exceptional and elegant designs," Rosalina Nacken says.
There is only one week left before the Apple iPad Air comes out and with a limited availability before Christmas make sure to buy a luxurious Rosalina Nacken Shelle handbag for the online boutique to protect your new device.
Rosalina Nacken's products are continuously evolving; follow them on Facebook, Twitter and Pinterest.
Rosalina Nacken's brand new Shelle™:

Made to move with you
Wear it how you want
Inspiring, Power, femininity and strength
High fashion for high tech
Innovative and chic
A purse and tablet in one – perfectly matched
Excellent gift suggestion
Stylish and elegant- luxury accessory