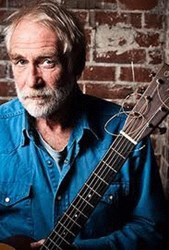 "He harks back to the earnest ambitions and heartfelt melodies of Willie Nelson and Johnny Cash, singing with the conviction that folk can still be heroic."– The New York Times
Leicester, MA (PRWEB) October 30, 2013
Thursday November 7th, famed singer-songwriter David Mallett performs at the Hezekiah Stone Coffeehouse in Leicester, MA
Singer-songwriter, David Mallett, is one of America's true original troubadours.
In a career spanning four decades, Mallett has recorded 14 albums, has had several hundred of his songs covered, including the American folk classic "Garden Song" (Inch by Inch, Row by Row), and has performed in clubs, concert halls and festivals across the US, Canada and Europe. David Mallett has appeared on numerous broadcasts, including National Public Radio's "A Prairie Home Companion." Known for his carefully written, poetic offerings, Mallett's body of work has provided material for an eclectic list of artists that includes Alison Krauss, Pete Seeger, Hal Ketchum, Emmylou Harris, John Denver, and the Muppets.
"He harks back to the earnest ambitions and heartfelt melodies of Willie Nelson and Johnny Cash, singing with the conviction that folk can still be heroic." – The New York Times
Thursday, November 7th 2013
The Hezekiah Stone Coffeehouse is hosted by the
Christ Episcopal Church
1089 Stafford St.
Leicester MA 01542
Tickets: $20 Show time: 7:30 PM
http://www.brownpapertickets.com/event/439416
The Mission of Hezekiah Stone's Coffeehouse is to provide an affordable evening of live entertainment that builds community while supporting the arts and creating an intimate space where artists and audiences can interact. Like Hezekiah Stone's tavern, from which the name is taken, community members are invited in to relax and intermingle in an informal, friendly atmosphere. Concerts are held on the first Thursday evening of the month, (September through June) doors at 7:00 pm show at 7:30 pm.
A post-show artist reception and conversation is hosted at 9:15 pm. Please join in and get to know the artist and the local folk community.
The Hezekiah Stone Coffeehouse is produced by Timothy Mason and Peter Swanson with the support of the congregation of the Christ Episcopal Church.
For more information, images, or to arrange an interview, please contact Melissa Zeigler at Powderfinger Promotions: melissa(at)powderfingerpromo(dot)com.
Powderfinger Promotions–Independent Radio Promotion and Publicity. Since being founded in October 1994, Powderfinger has come to be regarded as a top indie radio promotion and publicity firm with ties across North America.