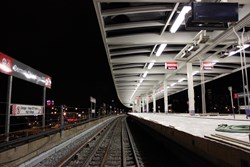 We have been providing solutions to challenging lighting projects for the CTA for many years, helping them meet their goal of creating a 21st century transit experience for commuters." Jim Hawkins, President
Gurnee, IL (PRWEB) October 30, 2013
Kenall Lighting, a leader in the commercial lighting industry, is proud to be a part of one of the nation's largest transit projects. With the opening of the Chicago Transit Authority's newly reconstructed Red Line South, Kenall lighting is helping the CTA shine brightly. The lighting company was one of the vendors selected to provide new and retrofit lighting solutions for the CTA's eight transit stations along the Red Line
South route.
"We are proud to be associated with the CTA and this innovative transit project," said Jim Hawkins, owner of Kenall Manufacturing. "We have been providing solutions to challenging lighting projects for the CTA for many years, helping them meet their goal of creating a 21st century transit experience for commuters."
Kenall's LuxTran™, Mighty Mac™ and SimpleSeal™ luminaires are installed at various transit stations along the Red Line route. These high abuse lighting fixtures are designed and manufactured to withstand repeated abuse—both environmental and physical. The luminaires feature durable, one-piece sealed housings and vandal-resistant lensing. They are easy to maintain, providing a significant cost savings to the city.
LuxTran luminaires are ideal for transit applications, as they are designed to endure some of the most challenging physical and environmental conditions. Features include one-piece, fully-sealed stainless steel or marine-grade aluminum housing for corrosion resistance; sealed high-impact acrylic, polycarbonate or tempered glass lensing; easy maintenance with options such as tool-less entry or tamper-resistant fasteners, spring-loaded sockets and quick electrical disconnects; and IP65 rating provides ingress protection against dust and water.
Kenall's SimpleSeal series is IP65 rated and it offers one-piece, seamed-welded construction with high-impact acrylic lensing sealed to the doorframe. The doorframe is secured to the housing with aircraft cables and captive-mounted stainless steel fasteners. Closed cell extruded silicone gaskets seals the doorframe to the housing.
The MightyMac is a surface ceiling mount luminaire that features one-piece, seam-welded stainless steel housing; polycarbonate, acrylic or tempered glass lens; stainless steel piano hinge welded to housing and secured to door; and easy installation with field-drilled holes. The lighting fixture is UL/cUL listed for Wet locations.
***
About Kenall Lighting
Celebrating 50 years of lighting innovation, Kenall Lighting, located in Gurnee, IL, produces and supports high quality and durable lighting solutions for the most demanding environments. Since its inception in 1963, Kenall has been known for superior quality, exceptional value, and durable solutions, and it is proud to provide sealed lighting for containment or clean spaces, security lighting for detention facilities, and specialized healthcare and transportation applications. Kenall products are designed and manufactured in the USA and meet the guidelines established under the Buy American Act and the North American Free Trade Agreement. For additional information, visit http://www.kenall.com.
###