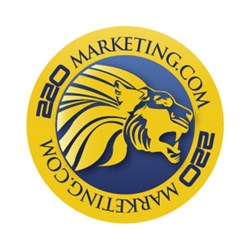 The most important part about 220's strategy is that we are constantly adjusting our methods to deliver meaningful placement results that last. It's all about building consumer trust.
San Diego, CA (PRWEB) November 04, 2013
Search Engine Optimization (SEO) has been the buzz word in the world of internet marketing for over a decade. Many businesses have been seeking to infiltrate the complex search engine algorithms in order to improve their online visibility. Although few firms have succeeded at delivering meaningful results, 220 Marketing's unique approach to SEO helps their clients dominate search engines. 220's SEO Package has given Mortgage, Insurance, and Real Estate Professionals across the country a road map for successfully navigating the ever-changing world of search engine rankings.
Those agents enrolled in 220 Marketing's SEO Package has experienced a significant increase in online visibility. This boost can make an enormous positive impact on their client's revenue growth. Gary Donovan, a mortgage lender with BNC National Bank based in Wichita, Kansas, enrolled in the SEO Package on May 15th, 2013. Since enrolling, his company's website has improved to first page placement on Google for 7 major key phrases. "The thing that I like best about the 220 SEO Package is how user-friendly the content is and how it attracts high quality leads in my area. When people get to my website, they know exactly where to click to get the information they are looking for," said Mr. Donovan.
The company's founder, Trevor Niarchos, offered the following advice to anyone considering undertaking a search engine optimization campaign of their own. "Above all else, make sure you are targeting key words and phrases that are going to drive business to your website. Meaning, make sure your strategy is built around phrases that people are actually typing in. Consumer behavior is the most important part of the equation."
It's clear that 220's SEO Package combined with the 220 Marketing System gives Mortgage, Real Estate, and Insurance agents unparallel advantages over their competition online. Peter Barankiewicz is one of 220's expert online marketing consultants and has also been with the company for its entire 7-year history. Mr. Barankiewicz gave his take on 220's SEO Package. "Everything we do for our clients or teach them to do for themselves is always in accordance with the latest and greatest Search Engine Optimization techniques. The most important part about 220's strategy is that we are constantly adjusting our methods to deliver meaningful placement results that last. It's all about building consumer trust."