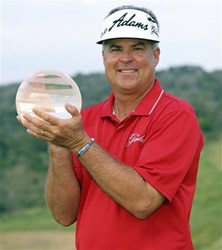 IonLoop continues to be the sports bracelet of choice on the PGA Tour & Champions Tour… winners wear IonLoop. - Melissa Gotfredson
Dallas, Texas (PRWEB) October 29, 2013
Adams Champions Tour professional makes a 10-foot birdie putt on the first hole of a playoff with Bernhard Langer on Sunday to win the Champions Tour's AT&T Championship. Each time this Champion has hoisted a trophy this year, an IonLoop bracelet has been part of the landscape… Sunday's winning color selection was a Kentucky Blue Adams bracelet.
"We are so excited to see IonLoop consistently on the wrist of this Champion and great family man, we wish him luck in San Francisco," said IonLoop CEO Melissa Gotfredson. "The fact that he wears our Negative Ion + Magnet bracelet each event reinforces his belief in the technology," said Gotfredson.
IonLoop® negative ion bracelets, wristbands and necklaces are a great first-step in counteracting the harmful effects of positive ions. The negative ion properties are manufactured into the silicone bands themselves and will not lose their effectiveness over time. Most of the bracelets and necklaces also contain two small but powerful magnets that are carefully assembled so that they alternate the polarity of each magnet; we believe this manufacturing process may be adding another dimension to the potential stimulus that the magnets may have on the chemistry of the human body. Ionloop is proud to have golf industry leader Ahead as their exclusive distribution partner for the golf industry. Please go to http://www.aheadweb.com to learn about this great company.
Keep your eyes out for IonLoop bracelets during PGA Tour events including The Charles Schwab Cup at TPC Harding Park this week and stay in the Loop!
For additional information on IonLoop technology and to view all of the other IonLoop bracelets, visit http://www.ionloop.com.