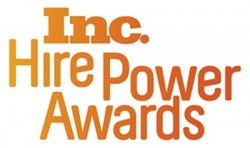 Reston, VA (PRWEB) October 29, 2013
Qbase LLC, a leading provider of information technology services, business intelligence solutions, and geographic search technologies, has been named a 2013 Hire Power award winner by Inc. Magazine during its annual competition that recognizes America's leading job creators.
"We are greatly honored to be chosen by Inc. Magazine for this award," said Qbase President and Chief Executive Officer, Steve Baldwin. "Everyone at Qbase works diligently to bring value to our customers, and to our organization. It's that daily commitment that drives our growth and has created an environment that fosters and recognizes excellence."
Qbase is among the 437 private growth companies that were selected for leading the way in creating more American jobs. While the honorees are found across the country in 25 categories, industries with the most Hire Power companies include health, financial services, software, human resources, and IT services where Qbase ranked sixth overall.
"For a second year in a row, we are pleased to recognize the employers who are putting Americans back to work," says Eric Schurenberg, Editor-in-Chief of Inc. "The Hire Power Awards are the only awards that single out job creators. We think it's fitting to pay tribute to company founders not just for their business prowess but also for their immense contribution to the welfare of U.S. workers and the vitality of the U.S. economy."
Qbase Vice President of Human Resources, Tina Lastowski said of the company's award, "Teamwork is written within our mission statement, so we strive to constantly seek out the most skilled, hard-working, and dedicated individuals that are committed to contributing to the success of our company and our clients."
Visit Inc.com to find out more about the 2013 Hire Power Awards, the Qbase selection, and a complete listing of the 2013 honorees.
About Qbase, LLC
Qbase, LLC is a worldwide provider of innovative decision support technologies and information technology professional services that support the mission-critical operations of our clients. Visit 4Qbase.com to learn more about our company and award-winning products, services, and solutions.
About Inc.
Founded in 1979 and acquired in 2005 by Mansueto Ventures, Inc. is the only major brand dedicated exclusively to owners and managers of growing private companies, with the aim to deliver real solutions for today's innovative company builders. Total monthly audience reach for the brand has grown significantly from 2,000,000 in 2010 to over 6,000,000 today. For more information, visit http://www.inc.com.