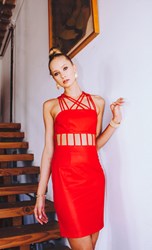 Los Angeles, CA (PRWEB) November 07, 2013
For a few seasons and counting, strappy clothing and accessories have been spotted on nearly every fashion runway. From understated strappy heels to cutout dresses with slim straps, this trend can be worn in a number of different ways for a sleek and modern look. Online fashion retailer GoJane has created a collection of strappy clothing and accessories inspired by this edgy style, but for a fraction of the cost of more expensive designer brands. GoJane's goal is to deliver trends like this one to average girls at a price that they can comfortably afford.
GoJane's collection of strappy pieces includes a very large number of shoes in all styles. Low heels with a thin strap across the toes and around the ankle are a favorite among designers, and GoJane has created a selection based off of this chic style.
Our experts suggest bold leopard prints and neon colors as accent pieces with monochrome outfits. GoJane also carries strappy sandals, which never seem to go out of style. Sandals with low wedges can be dressy or casual, while gladiator sandals with rows of stacked straps offer more of an earthy tone.
"Our strappy heels and sandals give girls the classic, feminine look that goes with everything, but for a price that means they can buy more than just one pair," says Emily Devine, GoJane stylist and blogger.
GoJane's strappy selection doesn't end with shoes, however. They have also compiled a collection of sexy dresses, skirts and tops with geometric cutouts. Their strappy dresses include tight mini dresses, flared skater dresses and longer maxi skirts with eye-catching cutouts on the hips, back or neckline, with thick and thin straps holding them together. GoJane's bralettes and crop tops also feature wild, strappy details such as caged necklines and metal rings, often paired with a loose skirt or high-waisted shorts.
GoJane aims to keep their strappy clothing and accessories collection current and on-trend, while still keeping their prices low enough to accommodate budgets for young women of all ages.
"We recognize the desire to have all of the latest looks, but we also know that many women can't afford to pay those designer prices. Our strappy dresses and shoes look just like the ones you see in fashion magazines, but they don't have expensive price tags," Devine said.
GoJane is an online retailer of fashion-forward apparel for progressive young women. The website offers all of the latest trends in clothing and accessories for a fraction of the cost of designer brands.