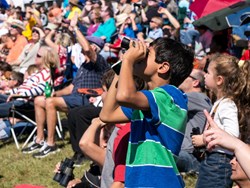 Peach Tree City, Georgia (PRWEB) November 07, 2013
For 15 years, the Great Georgia Airshow (GGAS) maintained a reputation in the air show circuit as one of the best shows in the southeast and a favorite for aviation aficionados seeking a fan friendly experience. The 2013 edition, held Oct. 11th-13th at Atlanta Regional Airport-Falcon Field, began a new chapter as organizers reinvented the program, creating a festival weekend with many firsts, including a night show, fireworks, concerts, and expanded activities for kids and adrenaline seekers.
Over 30,000 tickets were purchased online and at the gate, setting a GGAS record during a season when over 60 air shows across the country were cancelled due to the loss of military participation.
"We were so glad to see many friends return to the GGAS this year," commented Angie Faulise, Great Georgia Airshow Director, "but we were extremely excited to have so many people attend GGAS for the first time."
Over 50% of tickets purchased online were from zip codes outside of Fayette and Coweta counties.
The night show was a stunning success as Peachtree City residents and visitors were dazzled by tightly choreographed aerial performances illuminated by strobe lights and pyrotechnics in a cloudless sky. The jet truck, wall of fire and fireworks display were weekend highlights.
75% of the acts were new in 2013, but returning performers and even vintage World War II aircraft updated their routines by flying at night or incorporating pyrotechnics.
Just as important, the air show rallied scores of new volunteers to assist the Commemorative Air Force (CAF) Dixie Wing, the host organization, eclipsing the 800 mark for the first time.
"GGAS is a 100% volunteer, community event." Continued Faulise, "We had a great show this year because we have great volunteers with a passion for aviation, education and service."
Plans for next year?
"The best is yet to come."