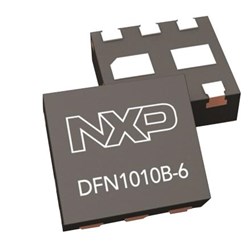 Eindhoven, Netherlands and Hamburg, Germany (PRWEB) October 29, 2013
NXP Semiconductors N.V. (NASDAQ: NXPI), today introduced the first transistors in a 1.1-mm x 1-mm x 0.37-mm low-profile DFN (discrete flat no-leads) package. The new portfolio consists of 25 types including low RDSon MOSFETs, as well as low saturation and general purpose transistors that boost current capabilities up to 3.2 A. The ultra-small form factor and high performance make the new product families ideal for power management and load switches in portable and space-constrained applications where size, power density and efficiency are key.
"Achieving this high value for drain and collector current in such a small plastic package is unprecedented," said Joachim Stange, product manager, transistors, NXP Semiconductors. "With this milestone, NXP continues to push the envelope in ultra-compact packaging and performance in MOSFETs and bipolar transistors."
The new product series is available in two package versions: the single-die DFN1010D-3 (SOT1215) package with a power dissipation capability of 1 W comes with the special feature of tin-plated, solderable side pads. These side pads meet strict automotive requirements by offering the advantage of optical soldering inspection, as well as a better quality of solder connection compared to conventional leadless packages. The dual-die package DFN1010B-6 (SOT1216) with the 1.1-mm² footprint is the smallest package available for dual transistors.
The products in DFN1010 can replace many WL-CSP devices, as well as larger DFN and standard leaded SMD packages such as SOT23 which is eight times the size, while delivering equivalent or even better performance.
Key features of the new portfolio:

Ultra-small and flat package of 1.1 x 1 x 0.37 mm
Power dissipation (Ptot) of up to 1 W
Featuring tin-plated, solderable side pads for improved mounting and automotive conformity
Single and dual MOSFETs (N-ch/P-ch)
Low RDSon values down to 34mOhm
ID up to 3.2 A
Voltage range of 12 V to 80 V
ESD protection of 1 kV
Single low VCEsat (BISS) transistors
Low VCEsat values down to 70 mV
Collector current (IC) up to 2 A, Peak collector current (ICM) up to 3 A
VCEO of 30 V and 60 V
AEC-Q101 qualification
Dual NPN/PNP resistor-equipped (digital) transistor (100 mA, R1=R2=47 kOhm / AEC-Q101 qualified)
Single and dual general purpose transistors
Availability
The new transistors in DFN1010 are available immediately in high-volume production.
Links

About NXP Semiconductors
NXP Semiconductors N.V. (NASDAQ: NXPI) creates solutions that enable secure connections for a smarter world. Building on its expertise in High Performance Mixed Signal electronics, NXP is driving innovation in the automotive, identification and mobile industries, and in application areas including wireless infrastructure, lighting, healthcare, industrial, consumer tech and computing. NXP has operations in more than 25 countries, and posted revenue of $4.36 billion in 2012. Find out more at http://www.nxp.com.
Forward-looking Statements
This document includes forward-looking statements which include statements regarding NXP's business strategy, financial condition, results of operations and market data, as well as other statements that are not historical facts. By their nature, forward-looking statements are subject to numerous factors, risks and uncertainties that could cause actual outcomes and results to be materially different from those projected. Readers are cautioned not to place undue reliance on these forward-looking statements. Except for any ongoing obligation to disclose material information as required by the United States federal securities laws, NXP does not have any intention or obligation to publicly update or revise any forward-looking statements after NXP distributes this document, whether to reflect any future events or circumstances or otherwise. For a discussion of potential risks and uncertainties, please refer to the risk factors listed in NXP's SEC filings. Copies of NXP's SEC filings are available from the SEC website, http://www.sec.gov.