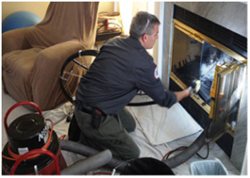 Overall outstanding service! All American Chimney was on time, thorough, informative, and friendly. I found them to be very courteous and they answered all of my questions. I absolutely recommend their service and I know who I'll call in the future!
Louisville, KY (PRWEB) October 30, 2013
All American Chimney Service was awarded the "Best of the Best" designation for excellence in the category of Chimney Repair Louisville KY and Chimney Sweep Louisville KY by Follow Media Consulting, Inc. This award signifies the continued commitment and dedication of the area's best in chimney repair and maintenance services.
Everyone enjoys the beauty and comfort of a roaring fire on a cold dreary day. What is not enjoyable are the many things that can make that fire an unpleasant experience if the appliance is not maintained on an annual basis. It can range from smoke backing up into the home or a fire that doesn't want to start or that won't stay lit, to a chimney fire.
All American Chimney Service was started in 2006 when Doug Hetsch saw there was a need for a certified and fully trained chimney service company in the Louisville area. Doug noted that while there were chimney services in the area, none were certified in the service they were performing. As a highly trained pilot, that was not acceptable.
That's why all the chimney sweeps at All American are certified by the CSIA (Chimney Safety Institute of America) for chimney venting systems as well as dryer vent safety and cleaning. Clients never have to worry if the person that is entering their home and servicing their vent system or repairing their fireplace is trained and certified, because All American Chimney Service guarantees it!
All American Chimney Service have been conducting business and taking care of the following for many clients in the Kentucky & Indiana area around Louisville since 2006. Their services include:
HeatShield®
Chimney Sweeping & Cleaning
Chimney Inspections & Evaluations
Chimney Repair & Rebuilds
Chimney Relining
Dampers
Chimney Caps & Chase Covers
All American Chimney Service not only guarantees their service, they also have a Best Price & Satisfaction Guarantee as well. That's right: they guarantee the best price for their services and will work until clients are satisfied with a job well done. It's easy to do because they know their staff is the best trained in the area and have the most experience after sweeping, inspecting, renovating and repairing thousands of chimney systems over the last 8 years.
So, to make your chimneys safer, get them repaired and restored when broken or when they leak, call All American Chimney Service at phone number 502-435-2364 or visit their website at http://www.aachimneyservice.com/ to know more.
About Follow Media Consulting, Inc.
Named one of the best SEO companies by Jonas Marketing, Follow Media Consulting, Inc. is a rapidly growing worldwide firm of SEO, Social Media, and Mobile Marketing Professionals. Follow Media Consulting, Inc. headquarters is located in Richmond, VA. However, our professional team is networked across the world, with regional offices across the United States, in the United Kingdom, Canada, Australia, France, South Africa, the Philippines, and India.