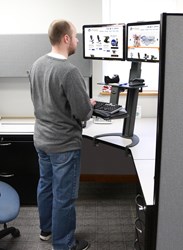 HealthPostures has recently entered into a distribution partnership with National Business Furniture, making the company a reseller of HealthPosture's products.
Burnsville MN (PRWEB) October 29, 2013
HealthPostures, a leading ergonomics furniture and equipment designer and manufacturer, is pleased to announce an expanded distribution network with a national furniture reseller. David Watkins, a HealthPostures senior executive, revealed that, "HealthPostures has recently entered into a distribution partnership with National Business Furniture, making the company a reseller of HealthPosture's products. NBF will distribute our mobility and ergonomics office furniture products through numerous channels. We entered into the business relationship, in part, because of NBF's reach, as NBF is one of the largest, nationwide resellers of office furniture."
National Business Furniture was founded in 1975. The company is headquartered in Milwaukee, Wisconsin and has satellite offices in major cities throughout the United States, including New York City, Chicago, Seattle, Phoenix, Dallas, Atlanta and Los Angeles. NBF senior management shares that, "NBF has served over 300,000 businesses and institutions in all industries, including 477 of the Fortune 500, 93 of the largest universities, the White House and Pentagon as well as thousands of small businesses. Our furniture experts provide solutions for any size project."
Specific types of furniture NBF distributes include break room furniture, office tables, bookshelves, conference furniture, office chairs, office desks, outdoor furniture and AV equipment. Through the distribution partnership HealthPostures has recently developed with NBF, the business furniture company will distribute HealthPostures' ergonomics and sit stand furniture, including the TaskMate Executive, a sleek adjustable standing desk and the StanceMove, a sit stand mobility chair that's built to reduce and eliminate neck and back pain as well as increase the amount of calories workers burn.
The TaskMate EZ Surface 6450, TaskMate Go 6300 and the TaskMate Go with Dual Monitors are other ergonomics furniture products that NBF will distribute for HealthPostures. Each of the products is designed for use with laptops, tablets or desktop computers. Additionally, each of the products is adjustable, eliminating the need for workers to sit at awkward positions, putting themselves at risk of developing health conditions like carpal tunnel syndrome, osteoarthritis in the neck, chronic back pain, neck strain or nerve compression.
This new partnership allows NBF to join HealthPostures several dozen long-term successful resellers, among which are Team Office, John A. Marshall Company, Commercial Concepts and Furnishings and Office Interior and Design. Other HealthPostures distributors include All Makes Office Equipment, Just Ergonomics, New Life Medical Equipment and Advanced Ergonomics Concepts.
About HealthPostures
HealthPostures LLC (https://healthpostures.com), has been designing and manufacturing ergonomic sit stand solutions since 1996. Part of the company's mission is to "strive to provide quality products that will help transform your sedentary life so you have a healthy way to work." Office solutions sit stand products Health Postures designs and manufactures include dual monitor sit stand work stations, adjustable mouse stands, dual monitor arm accessories, Stance move seat extensions, industrial surface Taskmates and Stance Move chairs.
Contact:
HealthPostures LLC
14310 Ewing Avenue South, Suite 100
Burnsville, MN 55306
800-277-1841
https://healthpostures.com