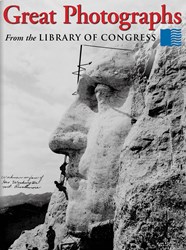 La Jolla, California (PRWEB) November 11, 2013
Beautiful illustrated books are not just words and pictures; they can also enhance the decor of a room. An e-book can never be the same. But if we want to actually read an illustrated book, an e-book can have distinct advantages. Not only are illustrated e-books less burdensome (imagine reading a coffee table book in bed or on an airplane), they can provide much more information in a highly accessible manner at a significantly lower price.
E-book publisher Artepublishing is offering two new enhanced illustrated e-books that in the past would have been published as coffee table books but are now being published in e-book format only: "Key Documents in American History from the National Archives" and "Great Photographs from the Library of Congress." As coffee table books, each would sell for $75.00 or more; as enhanced e-books, each is available exclusively at the Apple iBookstore for only $5.99.
Both of these new e-books have special features, such as zoom capability to enlarge images, hundreds of links to sites for accessing additional information, a built-in dictionary—and each e-book is searchable by key word.
Using the National Archives selection of 100 of America's milestone documents as a starting point—from the Declaration of Independence to the Warren Commission Report; the Dred Scott decision to the Civil Rights Act; Eli Whitney's cotton gin patent to John Glenn's Official Communication with the Command Center—"Key Documents in American History" adds additional post-1965 records, such as the Pentagon Papers and the 9/11 Commission Report, for a total of 111 historic documents in a format not available in printed form.
Reproductions of the documents, transcripts, and links to the National Archives official sites for each featured document are accompanied by original introductions by William G. Scheller, along with more than five hours of audio commentary. Links to the complete reports are provided for records that number in the hundreds of pages, such as the Warren Commission Report on the assassination of John F. Kennedy and the Pentagon Papers.
Designed to be intuitively interactive, internal links to the table of contents, transcripts, and other documents provide American history students and enthusiasts with a comprehensive, in-depth look at the documents that reflect the story of America in one easily accessible form.
"Great Photographs from the Library of Congress" is a unique e-book that contains more than 700 extraordinary images from the Library's Prints and Photographs Division, regarded by many as the world's greatest collection of historical photographs. Covering a variety of themes and time periods, the selected images illustrate how the world has changed since the dawn of photography.
Included are examples from Mathew Brady's Civil War classics; Edward S. Curtis's photographic chronicle of American Indians; and Carol M. Highsmith's color views from the turn of the twenty-first century; iconic photographs such as Dorothea Lange's "Migrant Mother" and the Wright Brothers' first successful airplane flight. A variety of themes and time periods are represented, from a turn-of-the-century color view of bustling activity on Constantinople's Galata Bridge to a shot of the Hindenburg passenger airship in flames; from classic portraits of those who have changed the world—Abraham Lincoln, Helen Keller, and Babe Ruth among them.
Along with high-quality reproductions of the photographs, this interactive e-book features links to the Library of Congress website, where readers can access complete catalog information as well as download high-resolution copies of the photographs for personal use.
Introductory texts to each chapter provide a wealth of information about the breadth and depth of the holdings in the Library of Congress Prints and Photographs Division, as well as guidelines for navigating the outstanding online archive of more than one million images. "Great Photographs from the Library of Congress" constitutes a valuable collection presented in an innovative electronic format that bears witness to history—the events and people, the fascinating, entertaining, shocking, thrilling, tragic, and poignant—as only photographs can.
Artepublishing is an award-winning publisher of enhanced e-books. Their publication "Great Impressionist and Post-Impressionist Paintings: The Musée d'Orsay" won the gold Benjamin Franklin Award for an e-book, and was also first runner-up for the 2012 Publishing Innovation Award for an original e-book.
Will e-books ever replace coffee table books? Not likely. But consider how much easier your next move will be with fewer coffee table books and more illustrated enhanced e-books!
Published by Artepublishing
Distributed by Abrams Books
Available exclusively at the Apple iBookstore.
Key Documents in American History: The National Archives link to iBookstore
Great Photographs from the Library of Congress link to iBookstore
For additional information contact Hugh(dot)Levin(at)artepublishing(dot)com