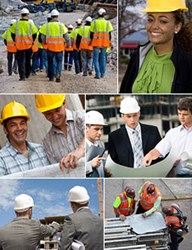 I can remember when we had five members, so it's been amazing to see our hard work pay off and reach this level.
Austin, Texas (PRWEB) October 29, 2013
The hiring and networking construction community website ConstructionConnection.com reached a new milestone this week with over 50,000 registered members now on their site. The site has established itself as the go-to website for professionals of all levels in the construction community to find educational resources and construction news, network with other industry leaders, and to post or find construction jobs. The Co-Founders of the website, Suzanne Breistol and Kent Leighton, are thrilled to see the site continue to grow as they work towards their mission of building a stronger construction community.
"I can remember when we had five members, so it's been amazing to see our hard work pay off and reach this level," says Breistol. "We started as a small site working out of Florida and Texas, and now we've grown to connect people from all across the country."
The site's foundation and a huge draw for individual and company members is the patent-pending Construction Connection job-matching tool. Unlike other general job posting sites, Construction Connection is only focused on one industry. This gives companies the opportunity to post very detailed job postings for industry-specific positions like heavy equipment operators, construction superintendents, concrete finishers, or cost estimators knowing the applicants will be experienced in that field. Individuals are also able to showcase their training and skills in detail-rich profiles that then connect them to jobs for which they are best suited.
Once a company posts a construction job on the site, the job-matching system then delivers a manageable number of well-qualified candidates to the employer. Companies do not have to waste time reading over hundreds of resumes of unfit applicants, and individuals do not have to waste time searching jobs they are not interested in or that require skills outside their qualifications. This streamlines the job searching and hiring processes to save both individuals and construction companies time and energy. While the job matching system is a cornerstone of the website, the educational resources and the Construction Connection partners are equally invaluable to the company's mission.
"We want to help the construction community in all aspects of business," says Leighton. "Suzanne [Breistol] and the rest of our team work very hard to make the best resources and support available to our members. We stand behind each our partners in all of the services they offer to help our members get connected the best in the business."
The Construction Connection partners include business consultants, engineers, attorneys, software developers and more, all of whom specialize in working with construction professionals. The partners offer services as well as contribute to the Construction Connection blog, which offers members a wealth of education articles, the latest industry news, helpful tools and advice on how to maximize profits and streamline business operations.
"From day one, our mission has been to be the preeminent authority and community for the construction industry," says Leighton. "Even now, with over 50,000 people on the site, we are dedicated to each and every one of our members and want to help them find what it is they need. Whether it's a job, a project management software, a new electrician or information on sustainable building, we are here to help."
About Construction Connection
ConstructionConnection.com was created out of a need for a more effective and streamlined way for construction industry professionals to get matched with the right industry jobs and with the right industry opportunities. The founders of Construction Connection, both industry professionals themselves, listened to both company and individuals' dissatisfaction with the traditional job boards, the paid resume blasts, the overpriced resume services and overall lack of sympathy toward the individual candidate. They also listened to the dissatisfaction from companies who post jobs only to get many irrelevant results or have to purchase high priced ads to showcase their company. Construction Connection is a patent-pending, one-of-a- kind profile creating / match-making system. The system delivers effective results. Construction Connection saves time, money and aggravation by matching people to people, people to companies, companies to people, and company to company.