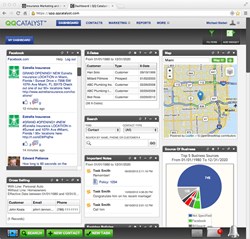 Catalyst makes all our jobs organizing and managing our client data much easier and more efficient.
Deerfield Beach, FL (PRWEB) November 04, 2013
QQ Solutions, Inc., one of the largest providers of insurance agency management systems for independent agencies, announced the latest release of its revolutionary cloud-based insurance agency management system, QQ Catalyst™. Catalyst version 2.5 adds support for commercial lines and a contact import feature for importing customers and prospects from several file formats. The update also includes File Manager improvements, several feature enhancements, as well as additional IVANS carrier download certifications.
With a dynamically growing customer base – currently over 425 new subscribers since its launch in early 2013 – agencies using older systems can easily migrate to Catalyst. Catalyst is also the easiest agency management system to learn and use. With industry leading features and innovation, like its patent pending "Stack" and "Guided Workflows", Catalyst will dramatically improve agency productivity and efficiency. Catalyst is truly mobile and works on any device with a modern browser, including PCs, Macs, iPads, iPhones, Android devices, Microsoft Surface tablets, Chromebooks, and other mobile devices.
QQ Solutions' industry leading customer on-boarding, training and support programs make transitioning to and learning Catalyst fast and easy. Plus, Catalyst's context-aware on-page training videos, built-in help and unique Guided Workflows keep users on track, eliminating errors and following best practices. For agencies migrating from older agency management software, database conversions are available.
Michelle Mosher, of Great Florida Insurance in Apollo Beach, Florida said, "I am a huge fan of QQ Catalyst. It works great for me and my agency. I find the most useful thing is the ability to complete ACORD forms quickly and easily for my contractor certificates, and the ability to know at a glance what my business looks like. The access-from-anywhere appeals to me, as I can gain access to anyone's policy info at any time without having to lug my laptop around with me. It's been an overall wonderful asset to my agency. The support is wonderful as well. They listen to my suggestions and are always a phone call away to answer questions I have about the system."
Debbie Cunningham, of Cunningham & Associates Insurance in San Angelo, Texas said, "Our employees have been able to adapt to the QQ Catalyst system very quickly. With its cloud-based access, we no longer have the issues we used to deal with of limited access on various workstations in our office, and now also have gained the ability to work from home or at a client's office. Catalyst makes all our jobs organizing and managing our client data much easier and more efficient."
Brenda Singh Bajaj, of Flynn Commercial Insurance Services in Long Beach, CA said, "Wow! In light of the fact that our business is 99% commercial packages, this update really enhances the usefulness of Catalyst for us exponentially. In addition to the excellent commercial additions, the fact that I don't have to play musical chairs updating the workstations of 10 employees when you have update is a true blessing. Add this to the user-friendly interface and convenient placement of training videos and the amount of time and effort I invest in reviewing data entry for the company is cut in half. It is from these perspectives and the many hats one may find themselves wearing at an insurance agency that I state I am glad we happened upon and invested in QQ Catalyst."
Eric Most, of Most Insurance in Tampa, Florida said, "We have been able to pick up and use QQ Catalyst very quickly – less than thirty minutes for most features."
Mark Malis, Chief Executive Officer of QQ Solutions added, "Catalyst is performing beyond our expectations and our customers love it. Now, with the addition of commercial lines support, contact and prospect file import and other enhancements, Catalyst is even better and more agencies can take advantage of this great new cloud-based system."
For more information about QQ Catalyst, visit the company's website or call QQ Solutions at 1.800.940.6600.
About QQ Solutions, Inc.:
Named one of the "25 Fastest-Growing Technology Companies" in South Florida by the South Florida Business Journal, QQ Solutions is a software-as-a-service (SaaS) company that provides feature-rich, affordable solutions that help independent insurance agencies grow revenues, enhance productivity and operate more efficiently. One of the largest providers of insurance agency management systems for independent insurance agencies, QQ Solutions supports over 22,000 users nationwide. The company's mission is to help independent insurance agencies compete in the digital world by leveraging the latest cloud technology, social media, digital marketing and real-time services.
QQ Solutions strives to delight its customers by exceeding their expectations in product quality, customer service, training & support, and by meeting their evolving needs through a program of continuous product development and improvement incorporating the best available technologies.
The company's headquarters is located in Deerfield Beach, Florida, where the company employs 65 people in software development, product management, product support, professional services, marketing, sales, IT, finance, and administration.
To learn more about QQ Solutions products, please call the company at 1.800.940.6600, or visit the QQ Solutions website at: QQSolutions.com.