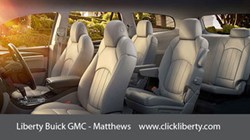 "This is the crossover that will completely replace the mini van for families." -- Scott McCorkle, Liberty Buick GMC
Charlotte, NC (PRWEB) November 01, 2013
With records sales of the Buick Enclave in 2013, car buyers now have even more to get excited about with the newly-released 2014 Buick Enclave on the Showroom floor at Liberty Buick GMC in North Carolina. This Crossover SUV has been Buick's best-selling vehicle for the past two years garnering many awards and rave reviews by industry players. And if you want it now, the only place to buy it in or around Charlotte is Liberty Buick GMC.
"For the 2014 Enclave, GM continues to perfect this much in-demand SUV's exterior and interior making it the most affordable luxury SUV on the market," says Scott McCorkle, owner of Liberty Buick GMC in Matthews and Charlotte. "It's a great family vehicle with plenty of room for seven passengers and the driver, and still provides a ton of cargo space."
Car and Driver Magazine says, "It's a full-size crossover with three rows of seating and one of the smoothest rides available for less than $40,000. The Enclave is quiet, comfortable, and family friendly."
The Enclave offers a six speed automatic transmission, and a direct-injected 3.6-liter V-6 that makes 288 horsepower and 270 pound-feet of torque. Front-wheel drive is standard, while the AWD system is an option. It is rated at 16 mpg in city driving and 22 mpg on the highway.
"If you are seeking a vehicle that is both luxurious and spacious, this is the one," says Scott McCorkle. "And when tested for safety and reliability, many of the reviews speak for themselves."
U.S. News and World Report chooses the Buick Enclave #1 out of 21 as the most Affordable Midsize SUV. They also ranked it #1 in Affordable SUVs with 3 rows, and #3 in Affordable Crossover SUVs.
The 2014 Buick Enclave also offers the industry's first center-mounted air bag that is positioned between the front seats and is designed to help to protect the driver from injury in collisions on the passenger's side when he/she is the only occupant. Other safety features include available Side Blind Zone Alert2 with Rear Cross Traffic Alert, and standard StabiliTrak® with Traction Control to keep both the driver and passengers safe and comfortable.
The interior of the vehicle offers voice-activate Buick Intellilink® Infotainment System, uses premium soft-touch materials, heated and cooled leather seating, warm wood tones, brushed chrome accents, and ambient lighting to create a very contemporary feel.
Sales are expected to soar once this award-winning Buick hits the showrooms across the country. Liberty Buick GMC has just a few 2013 Buick Enclave's available for a deal in their clearance section and is the only dealer to carry the 2014 models to date.