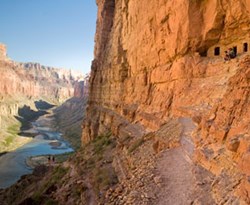 The professional and personal insights from our scholars should make this Grand Canyon adventure second to none.--Clay Patton, Crow Canyon Director of Cultural Explorations.
Cortez, CO (PRWEB) October 30, 2013
The Crow Canyon Archaeological Center invites archaeology, history, and geology enthusiasts to spend a week on the Colorado River during its Grand Canyon River Adventure.
Led by Grand Canyon archaeologist Kimberly Spurr and Hopi anthropologist Lyle Balenquah, travelers will investigate the 5,000-year human history of the canyon while exploring ancient sites—some accessible only from the river. Explorers will float the river on dories, experience adrenaline-inducing whitewater, and camp along the river for seven nights. Stories woven throughout the trip will reveal the significance of the landscape for all Southwest tribes and the colorful history of early river runners such as Major John Wesley Powell.
The trip will run May 18–27, 2014. Dories will be rowed by professional guides. To sign up for the trip or to get more information, call 1-800-422-8975, ext. 136; e-mail travel(at)crowcanyon(dot)org; or visit crowcanyon.org/travel.
About the Crow Canyon Archaeological Center
The not-for-profit Crow Canyon Archaeological Center conducts long-term, multidisciplinary research into the ancestral Pueblo Indians of the southwestern United States and provides experiential education programs for adults, teens, and children at its campus in Cortez, Colo.
Crow Canyon also offers archaeological and cultural tours throughout the world geared toward people who love to explore other cultures and delve into the mysteries of the human past. With small group sizes and top scholars, Crow Canyon is recognized as a premier provider of educational travel tours.