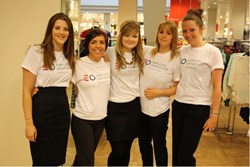 "Our goal is to become the fastest t shirt printing company in London, the UK and in Europe, but not at the sacrifice of service," said company director, Gavin Drake.
London and Barcelona (PRWEB UK) 29 October 2013
With more clients requesting last minute orders, express delivery and same day t shirt printing, Garment Printing has re-invested in its innovative IT platform that improves on its already strong, international supply chain. Combined with an enhanced customer relationship system, the company is focused on reducing turn-around times and improving customer satisfaction, proven by its increase in positive feedback.
"Fast Track IT innovation is driving our Express t shirt printing demand," stated CEO Gavin Drake.
Having printed and embroidered extensively for the television, media, music, and advertising companies and global brands, Garment Printing understands and is familiar with sudden changes and urgent requests. Drake has applied his 15 years experience of the printing business to solving unexpected pressures on his companies supply chain and ensuring high quality service for his customers, explaining how his customer services team are "like an extension of its clients marketing teams."
Recent success stories include:

Printing and delivering 1,200 t shirts to 18 different addresses across the United Kingdom for client & department stores John Lewis - "Thank you for your support with this. The T-shirts are here and proudly being worn. Many thanks again." – Debbie Rickard, Visual Merchandising Manager, John Lewis
Peace One Day ordered t shirts for a competition held in partnership with British Airways. Garment Printing received, printed and returned the t shirts by the next morning. "We were delighted with the results of the order we placed with Garment Printing, which saw high quality t shirts printed and delivered on time. We were up against a tight deadline and the Garment Printing Customer Service Team worked with us to ensure that our order was processed in good time."
Garment Printing strives to meet all their clients' needs, even if it involves driving hundreds of miles across the UK to deliver personalised t shirts to meet specific business needs, such as the opening of new premises.
"At Garment Printing we don't have fixed turnaround times. We work to our client's requirements and urgent delivery deadlines," explained Drake.
"Whether it's same-day t shirt printing, next-day embroidered polo shirts, or anything personalised, customised or branded with company logos and designs, Garment Printing is here to make it happen. We're proud of our 'No Standard Delivery Times' promise," concluded Drake.
About Garment Printing
Garment Printing (http://www.garmentprinting.co.uk) is a leading international promotional and customised clothing company, offering a complete range of bespoke printing techniques. The company, founded by CEO, Gavin Drake in 2003 has worked with global brands including Mindshare, Coca Cola, Skype, Google and Saatchi & Saatchi.
Garment Printing's consultants work with marketing teams and promotional agencies to deliver printed clothing campaigns to budget and its global supply chain provides express turnaround and excellent customer service.