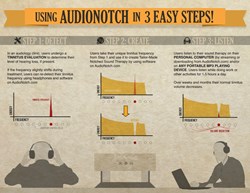 Toronto, Ontario (PRWEB) October 30, 2013
AudioNotch is the internet's leading provider of on-line tinnitus treatment. Users subscribe to the AudioNotch software, which provides Tailor-Made Notched Sound Therapy for tinnitus. Individuals customize their tinnitus sound therapy for their unique tinnitus frequency, which they can listen to on any MP3 capable playing device - no proprietary sound device is required, which helps keep the cost affordable for many patients.
Today, AudioNotch is launching a new temporary trial program. Users can request a one week trial of the AudioNotch software available at no cost by e-mailing info(at)audionotch(dot)com with the subject line "AudioNotch Trial." This special program will only be available from October 31st - November 11th (inclusive) and has no monetary charge.
AudioNotch is a unique sound therapy provider - based on scientific evidence, and highly affordable for the average user. AudioNotch is based on a set of European research studies that were independently carried out by two separate research groups. Through the use of cloud-based software technology, and with the flexibility of not requiring a specialized audio device, AudioNotch can be delivered at low cost to sufferers of tinnitus world-wide.