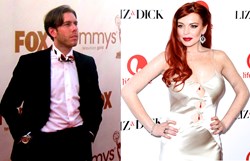 New York, NY (PRWEB) October 29, 2013
Justin Ross Lee, online personality and socialite, has signed as talent with Silver Visibility, an international public relations and media marketing firm.
"I am excited to work with Silver Visibility because of their extensive background in entertainment PR and selective celebrity roster. My new agency has refused to continue working with 'difficult' celebrities such as Lindsay Lohan. Admittedly, I'm high maintenance but I hope to be more of a pleasure to work with. I'm on my best behavior," Lee says.
Justin Ross Lee, or JRL as his fans call him, recently completed a record setting, twenty city, 35,000 mile "JewJetting World Tour" which has been covered extensively around the globe.
Lee is known for being the first to develop a lifestyle methodology of luxury travel for sport. His brand, "JewJetting," has driven Lee in his world explorations, flying in excess of 200,000 miles annually. "What I do on a daily basis is probably more complicated than what your average medical doctor does," says Lee. Lee also recently announced that he is authoring a book of his exploits to be released in 2014.
About Justin Ross Lee:
JRL is a socialite and media personality who has been frequented in headlines by both global and national publications. He has been critically acclaimed for his notoriety by The New York Times, New York Observer, New York Daily News and The New York Post, who named him "The Ego That Attacked NYC." JRL has a robust digital footprint with loyal followers in over 70 countries. JRL is a fashion accessory designer and an owner of Pretentious Pocket, a silk pocket square brand favored by celebrities and high-end retailers. He holds his master's degree in business.
About Silver Visibility
Founded by Trent Silver. Trent is the world's first and only Robin Hood of Hollywood, famous for generating international press surrounding his offers to A-List celebrities and politicians in order to raise money for charity and to raise marketing awareness for himself, his clients and his products. As a modern-day Robin Hood, Trent borrows publicity from celebrities, allow clients to make a profit, and gives to the people who really need the money through charities. Trent has been featured in TMZ, Forbes, The Huffington Post, ABC Television Network, ESSENCE, and over 100 other top tier media outlets.
For media appearances, interviews and speaking engagements contact: Trent(at)silvervisibility(dot)com.