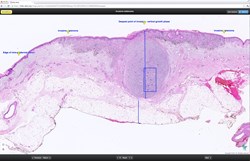 This work will help bring pathology into the digital realm already enjoyed by other medical specialties.
Clifton Park, New York (PRWEB) October 29, 2013
Kitware, a leader in medical computing applications, today announces $1M in new funding from the National Institutes of Health to enhance and further deploy its open-source digital pathology system.
On the heels of a successful Phase I SBIR project, researchers at Kitware Inc. and Beth Israel Deaconess Medical Center will improve their digital pathology system and web portal to facilitate a large pathology network, bringing pathology into the digital realm already enjoyed by other medical specialties and scientists. The inexorable push toward digital data acquisition has not yet taken hold in pathology, but with this high performance open-source system, pathologists will see benefits such as easy annotation and markup of whole slide images, flexible data archival and sharing, telepathology, 3D visualization and informatics, and education.
As part of the Phase II effort, new development will be focused on the architecture and web portal, formalizing an analysis framework and related tools, and generating new digital pathology content for both educational and reference purposes. The data-centric architecture will provide the foundation for data ingestion and processing of whole slide images (WSI), and support web-based display on a variety of devices including mobile devices. With that foundation, the team will develop a web portal that will enable users to upload, share, search, and view WSIs. The web portal will also be the basis for the Digital Pathology Journal that will enable dissemination of results, including large and distributed images with annotations.
"We are excited to bring this capability to pathologists and drive the field forward," said Dr. Charles Law, Principal Investigator on the project and VP of Strategic Growth at Kitware. "We have already worked with six institutions outside Beth Israel Deaconess Medical Center to deploy the system for teaching purposes, and are thrilled by the results. The residents who have used the system have found it intuitive to use and say that it enriches their learning experience; they can readily collaborate with each other, and ultimately, will be able to work with pathologists throughout the country."
To learn more about Kitware's digital pathology expertise and how it can be deployed and leveraged by your organization, please contact kitware(at)kitware(dot)com.
Research reported in this publication was supported by the National Institute of Biomedical Imaging and Bioengineering of the National Institutes of Health under Award Number R44EB013518. The content is solely the responsibility of the authors and does not necessarily represent the official views of the National Institutes of Health.
Kitware is an advanced technology, research, and open-source solutions provider for research facilities, government institutions, and corporations worldwide. Founded in 1998, Kitware specializes in research and development in the areas of visualization, medical imaging, computer vision, quality software process, data management, and informatics. Kitware is headquartered in Clifton Park, NY, with offices in Carrboro, NC, Santa Fe, NM, and Lyon, France. More information can be found at http://www.kitware.com.
###