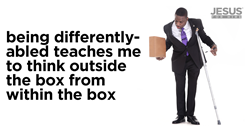 ..."being disabled has taught me to think outside of the box from inside the box."
New York, New York (PRWEB) October 30, 2013
How many times have you wondered just what would Jesus do, or saw the 'WWJD?' insignia somewhere? It's an age-old question that may be as old as Bethlehem. What if you had the opportunity to hire Jesus? Allah Jesus Ali (and yes, this is his legal name), a Brand Strategist & Creative Director with an entrepreneurial background and over a decade of experience, has launched a job-hunt campaign whimsically titled "Jesus For Hire". The multi-tiered campaign is designed to land Allah Jesus a high-profile gig and foster new relationships among his industry peers that bring about awareness of hiring those with physical disabilities.
Jesus for Hire entails releasing several streams of content including: a business, branding and lifestyle focused podcast called 'bReignstorm'; online classes with personal and business branding as the primary subject; and a flash mob picket demonstration outside the top companies with whom he'd like to work. By launching the Jesus for Hire campaign, Allah Jesus intends to not only land his dream job, but also (by making himself and the challenges of his disability public) make a difference and inspire others who are differently-abled. He hopes to inspire people who—at times—may feel like their disability puts a limit on how great they can be.
Allah Jesus, who himself experiences the residual and often painful effects of having hads evere Juvenile Rheumatoid Arthritis (JRA) and other joint-related ailments shares, "I know the difficulties of living a modified lifestyle well. However, being disabled has taught me to think outside of the box from inside the box." Ali goes on to explain how RA now affects all of his major joints and skeletal system at-large causing limited range of motion. For example, because of the fusion of his hip joints and sockets, participation in normal activities, like riding a bike, is not an option.
According to an August 2013 report from the US Department of Labor (http://www.dol.gov/odep/), 20.5% of the workforce identified as disabled, versus 69.1% of people without disabilities. Conversely, the unemployment rate for people with disabilities is almost double that of non-disabled persons at 14.1%.Getting hired as a brand strategist or creative director is certainly competitive, if not outright difficult. Allah Jesus intends that with the Jesus for Hire campaign, he'll catapult himself and his resume to the top of hiring managers' lists at companies like Narrative_, Google, Imaginary Forces, Rokkan, Roc Nation, and Wolff Olins to enhance his chances of working with their brand strategy and/or creative teams.
"In my dream job, I want to use my creative, entrepreneurial and problem solving skills in a leadership position doing work that I love; which is building brands." As he expresses his nervousness about making the transition from self-sustained entrepreneurship into Corporate America, he continues, "I've been building start-ups since sophomore year in high school! And I've done a pretty good job of keeping my bills paid working for myself. But, I know for the impact that I want to have, it's important to make this transition."
Allah Jesus hopes to follow in the footsteps of other well-known strategists and directors. "I believe that in order to be successful in this competitive job market, you have to target the people that can hire you where they are. So, I'm going to go right in front of their offices with a mob and picket them to hire me!" Allah Jesus landing his dream job is only the genesis of answering the question that will inspire his career over the next decade: "How do we use art, media, technology and design to create groundbreaking and inspiring experiences?" Will Allah Jesus finally give us the rhetorical answer society is looking for? "So just 'What Would Jesus Do?'" For more information, please visit http://www.jesusforhire.com. For all press or media opportunities and interview inquiries, please contact Shay Brown at 212.729.7091 or by email at shay(at)jesusforhire(dot)com.
ABOUT JESUS FOR HIRE - Jesus for Hire, created by Allah Jesus Ali, was first started in 2012 and is based in New York City. Jesus for Hire will provide national, brand strategy focused content that will inform and engage an audience of more than 200,000 people through a collection of broadcast, digital, mobile and publishing properties. The need for Jesus For Hire was birthed from the DISABLED + FRESH project, an upcoming multi-media showcase which seeks to empower people with disabilities through creative media and tactical outlets such as photo essays, photo books, publicity in major magazines, television, and print advertisements. For more information, visit http://www.jesusforhire.com.
ABOUT ALLAH JESUS ALI - Allah Jesus Ali builds brands and is a differently-abled Brand Strategist & Creative Director with a passion for helping companies and individuals communicate their authentic selves to the world through branding and leadership focused initiatives. Allah Jesus' entrepreneurial background has afforded him the opportunity to work with over 150 small and mid-sized businesses, entrepreneurs and start-ups, and create a track record of innovation. He's an expert who uses a multimedia mix of digital, new media, alternative and traditional marketing tools. He leverages this expertise to generate response-focused campaigns for clients that increase revenues and brand awareness, understanding and loyalty. Allah Jesus stands on his name as the initiating point of unity and oneness in the world and lives it out in his interactions with his clients, community, family and friends. He currently holds a Bachelors of Science in Business from DeVry University, and certifications in Advertising Art & Design and Television Production from the Eastern Suffolk Board of Cooperative Educational Services. For more information, visit http://www.jesusforhire.com.