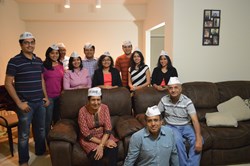 Silicon Valley, CA (PRWEB) October 29, 2013
Last Sunday evening thousands of Indians in the US and Canada participated in a Google Hangout with Arvind Kejriwal.
Kejriwal outlined his views on AAP, the vision of the party and plans for the forthcoming Delhi elections. He complimented the volunteers for supporting AAP. He also stressed on the importance of continuing volunteer support with financial contributions, social media efforts and spreading awareness about the objectives of the party. He answered top questions that had earlier been submitted by more than 300 people.
He said, "It is heartening and humbling to know that people of Indian origin from across the globe care so deeply about bringing a change to Indian politics. These questions indicated a deep understanding of the issues and a genuine concern for India. Delhi is just the start. I see this movement to transform Indian politics gaining greater momentum after the Delhi elections." Answering a question on programs for the youth, he identified education, employment and sports as three priority areas. He emphasized on the importance of simplifying rules to boost entrepreneurship and businesses.
Shail Kumar, co-organizer of the Hangout with Arvind said, "Arvind is a source of inspiration for donors, volunteers and supporters of AAP around the world. The Hangout was a wonderful opportunity for the supporters and their friends and family to hear directly from Arvind. We are delighted by the response to the Hangout with Arvind. This was viewed by people of Indian origin in over 100 cities across four continents. Several hundred volunteers, donors and supporters hosted the Hangout at their home, including students in over 25 universities. Some of these universities include UC Berkeley, UT Austin, Texas A&M, University of Iowa, University of Michigan, Boston University and MIT."
Clearly, the Aam Aadmi party and Kejriwal seem to have struck a chord with the non-resident community and many see it as a ray of hope for a better India. Maya Vishwakarma, organizer for the San Francisco Bay Area based volunteers for AAP said, "This hangout really helped us reach out to our network of friends and sensitize them to the impending changes in Indian politics pioneered by AAP. I am glad Mr. Kejriwal took the time to participate in this hangout despite his busy schedule. Seeing him address issues first hand was truly refreshing and inspiring." She hosted a hangout with her husband, friends and family. Maya grew up in Mehragoan, Madhya Pradesh in India and is currently based in Fremont, California.
About Aam Aadmi Party (AAP):
AAP was formally launched in November 2012 and Arvind Kejriwal is AAP's National Convener. AAP is now contesting its first election – the assembly elections in Delhi in December 2013. In less than one year AAP has gained significant momentum to become a key player in this election. AAP's agenda for Delhi includes implementation of Jan Lokpal, reduction in price of electricity and water, large-scale improvements in government schools and hospitals, improvement in women's safety, and implementation of political decentralization or Swaraj. AAP is funded entirely by donations from people most of whom contribute online on the party's website. Every single donation to the party is accounted for and the party also releases its income/expense statement. Its candidates are selected through a unique and open process. More information about AAP is available at http://www.aamaadmiparty.org
About Arvind Kejriwal:
Arvind Kejriwal completed his undergraduate in Mechanical Engineering from the Indian Institute of Technology (IIT) Kharagpur. He later joined the India Revenue Service after qualifying through the Civil Services Examination. In February 2006, he resigned from the position of Joint Commissioner in the Income Tax Department. In December 1999, while he was still in service with the Income Tax Department, he found an NGO named Parivartan (which means change), focused on assisting citizens, especially the poor in navigating income tax, electricity and food ration matters in parts of Delhi. He made extensive efforts to educate people on the Right to Information Act (RTI) and was instrumental in the RTI Act which was passed by the India parliament in 2005. He was awarded the Ramon Magsaysay Award for Emergent Leadership in 2006. He donated his Magsaysay award money as a corpus fund to found an NGO, Public Cause Research Foundation. In 2011, NDTV awarded him the Indian of the year award along with Anna Hazare. Prior to this Arvind has won numerous awards over the years - Ashoka Fellow award in 2004 for Civic Engagement, the Satyendra K. Dubey Memorial Award from IIT Kanpur for his campaign for bringing transparency in Government, and the CNN-IBN, Indian of the Year for Public Service in 2006, to name a few.