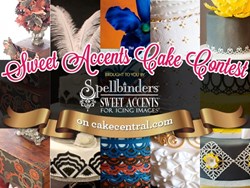 'Each cake maker was selected for their unique artistic style, high skill level, and history of consistently producing amazing cake designs.' - Jackie Shaffer, CEO Cake Central Media Corp.
Winchester, VA (PRWEB) October 29, 2013
October 30, Cake Central will announce the winner of the Icing Images® Sweet Accents™ Cake Contest, a contest featuring cakes made by skilled cake decorators using Icing Images Premium Icing Sheets™ and the Sweet Accents food-safe die cutting and embossing system. The contest winner will be featured in a 2-page spread of Cake Central Magazines' December 2013 issue.
Jackie Shaffer, Founder of Cake Central, hand selected 5 talented cake decorators to work with Icing Images' products to compete in a contest judged by the Cake Central members.
"Each cake maker was selected for their unique artistic style, high skill level, and history of consistently producing amazing cake designs." – Shaffer.
Shaffer selected competitors Kristin Erich, Bliss Pastry; Shannon Bond, The Crumb Coat; Susan Maestas, Custom Cakes by Susan; Amberly Belanos, Bella Cake Creations; and Katie-Blackwell Martin, Katie Belles. All contestants used different food-grade die cutters made for the Sweet Accents system to create their cakes.
Cake Central is the world's largest community for cake decorating professionals and enthusiasts. Since its founding in 2004, CakeCentral.com has been the leading source for cake makers to share their passion and develop their craft in a welcoming and supportive environment.
Kristen Erich's background incorporates various arts including theatre, painting and writing. Her passion for baking began more than a decade ago but she discovered the art of cake design in the summer of 2011. Erich's works reflect her inspiration; vibrant colors of nature as well as fashion and flights of the imagination. Erich's cake designs and recipes have been featured in Cake Central Magazine, Cake Masters Magazine, Taste of the South Magazine as well as many notable blogs and websites such as Cooking Channel, Southern Weddings, Weddings Illustrated, Calligraphy By Jennifer, Kara's Party Ideas and more.
Shannon Bond of The Crumb Coat is a wife and homeschooling mom of 6 young children. She has always had a passion to bake, paint, sculpt, craft, and draw. Bond's home-based bakery recently opened in June 2013 featuring cakes inspired by textures, details in fabrics and nature.
Executive Pastry Chef Katie Blackwell-Martin has over ten years of Baking and Pastry Experience. She has worked at five star five diamond resorts, elite country clubs and award winning restaurants. She is a graduate of Baltimore International College who has trained with both French and German Pastry Chefs and was originally an art major prior to becoming a pastry chef.
Susan Maestas is a self-taught cake decorator from a military air force family that has traveled the world. She currently resides in Cheyenne, Wyoming. Once just a hobby, her passion for cake decorating has been a full-time career the past 3 years, operating as Bella Cake Creations.
Amberly Bolanos is a 28-year old home baker from Texas who began making cakes for my daughter's birthdays, baptism, and other family events. When Texas passed the Cottage Food Law 2 years ago, Bolanos began selling cakes to the public.
"We were just thrilled to have such talented cake artists put their creativity to the test for this contest with our Sweet Accents dies and icing sheets." – Deborah Coughlin, Icing Images owner.
Icing Images has been a leading distributor of edible photo and edible paper art supplies for over a decade. Edible photo supplies such as printers, edible ink, icing sheets, and electronic and die cutters are used by cake and confection decorators throughout the world.