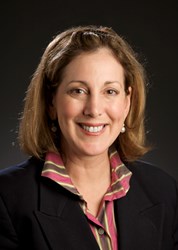 "Leah has proven herself to have a heart for conservation, and we are not surprised she was selected to this elite group." -Mike Foster, EVP for Central Trust
St. Louis, Missouri (PRWEB) November 05, 2013
Central Trust & Investment Company (affiliated with First National Bank of St. Louis) and the Center for Plant Conservation are pleased to announce that Leah A. Murray, J.D., Vice President & Wealth Strategist, has been named a trustee of the Center for Plant Conservation.
The Center for Plant Conservation (CPC) is dedicated solely to preventing the extinction of U.S. native plants. The Center was one of the first organizations created to meet this need, by helping build consistent scientific conservation programs in community institutions nationwide. The Center currently coordinates a network of 39 leading botanic institutions, working with nearly 800 imperiled species. Founded in 1984, the Center operates the only coordinated national program of off-site (ex situ) conservation of rare plant material. This conservation collection ensures that material is available to support further restoration and recovery efforts for these species. CPC also works in research, restoration, technical assistance, education and advocacy through the efforts of the network and the national office.
"Leah provides exactly what is needed in a trustee for a national conservation organization. She brings great expertise, a fine understanding of the complexity and urgency of conservation work, and the ability to be a passionate and articulate advocate both here in our home city of St. Louis, and across the nation," said Kathryn Kennedy, President and Executive Director of the Center.
"Leah has proven herself to have a heart for conservation, and we are not surprised she was selected to this elite group," added Mike Foster, Executive Vice President for Central Trust. "We're very proud to have her on our team."
Leah has more than 25 years of experience in the financial services industry. As a Kentucky native, she is a lifelong gardener and conservationist with a passion for strengthening heirloom varietals and locavore consumption. Leah is also a competitive tennis player, a published gourmet cook and an exhibited photographer.
About Central Trust & Investment Company
With approximately $4.5 billion in total client assets, Central Trust & Investment Company provides investment management, trust and fiduciary & retirement plan services to individuals, charities and businesses. The firm employs more than 100 investment professionals across offices in Kansas City, St. Louis, Jefferson City, Springfield and Columbia. For more information, visit http://www.centrustco.com.
About Central Bancompany
Central Trust & Investment Company is part of Central Bancompany which has more than $10 billion in assets. For the fourth year in a row, Forbes Magazine has recognized Central Bancompany as one of America's Best Banks in its annual review of the nation's 100 largest financial institutions. Central Bancompany, a Missouri-based bank holding company, ranked among the top twenty-five in the Forbes 2013 survey.