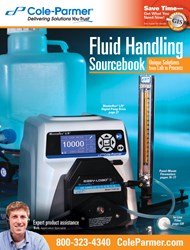 (PRWEB) October 29, 2013
Featuring a wide selection of fluid handling equipment, electrochemistry, lab instrumentation and supplies, the New Fluid Handling Sourcebook from Cole-Parmer offers everything needed for fluid transfer applications. The catalog also highlights thousands of items which are Guaranteed in Stock (GIS)—ready to order and ship.
New products providing fluid handling solutions include the Masterflex® I/P® Digital Process Drive, a peristaltic pump with a flow range of 0.01 to 26 LPM and a powerful, reversible motor for even the toughest pumping. The Oakton® Temperature Controller offers an improved display and contains an outlet receptacle which allows for direct plug-in of heating devices. The Vacuubrand® Compact Diaphragm Vacuum Pumps deliver high performance in a compact design and are ideal for vacuum filtration applications.
View these and many other new and best-selling products in the new Fluid Handling Sourcebook from Cole-Parmer. To request a free copy, call 800-323-4340 or visit ColeParmer.com/20633.
Cole-Parmer has been a leading global source of laboratory and industrial fluid handling products, instrumentation, equipment, and supplies since 1955. Our product lines, including popular brand names such as Masterflex®, Oakton®, and more, are sold through company-owned customer channel outlets and a strong network of international dealers. We also feature an ISO-17025-accredited metrology lab for instrument calibration and repair. Cole-Parmer responds with excellence to customer needs, and offers application expertise and technical support. For more information, contact Cole-Parmer, 625 East Bunker Court, Vernon Hills, IL 60061. In the US, call 800-323-4340. International customers, call 847-549-7600. Visit us at http://www.ColeParmer.com.