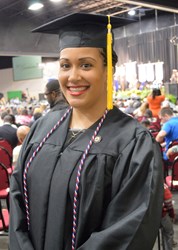 Orange Beach, Ala. (PRWEB) October 28, 2013
More than 3,000 graduates and guests from around the globe traveled to Orange Beach, Ala., for the annual Columbia Southern University (CSU) commencement ceremonies on Friday, Oct. 25, at the Orange Beach Event Center.
Two graduation ceremonies were held to accommodate approximately 550 graduates from numerous states and countries. Many received cheers, shout outs and loud applause as they made their way across the stage.
Just before walking, Ashelei Wells Johnson, who is graduating with a bachelor's degree in criminal justice, said, "I've got butterflies in my stomach now because I didn't get to walk when I graduated from high school. So this is an accumulation of everything I have hoped and dreamed for and when I cross that stage, I hope I don't faint because I am so excited about every moment of this."
And although she wore 5-inch glittery black heels, Johnson did not fall or faint as she crossed the stage. Excited graduate Vincent Harris, who earned a bachelor's in fire science with CSU, was also very happy with his education at CSU and explained how his degree helped him.
"I had an interview in Oregon with a fire protection district for a fire chief position and I got the job," said Harris, who is a lieutenant with Henry County Fire Department in Georgia. He added that his education with CSU and Waldorf College contributed to his success.
Keynote speaker Bob Alsop, president of Waldorf College, delivered an interactive speech as he asked the crowd to applaud and call out to show their appreciation and praise of graduates. Waldorf is a four-year liberal arts college based in Forest City, Iowa, that offers residential and online degrees and is the sister school of CSU. Other guests included Orange Beach Mayor Tony Kennon and Bradley Byrne, candidate for 1st Congressional District of Alabama.
On Oct. 24, graduates and families mingled with CSU staff and faculty at an open house at the CSU facility in Orange Beach. Later, CSU hosted a reception at the Gulf State Park Beach Pavilion.
"We are so proud of our graduates and happy that so many could attend with families and friends," said graduation coordinator Brittany Malburg. "This is a landmark event in their lives and CSU faculty and staff are honored to have been a part of the celebration of their educational journey."
CSU offers online associate, bachelor's, master's and doctoral degree programs in various fields such as fire science, fire administration, occupational safety and health, criminal justice and business administration.
To learn more, visit http://www.ColumbiaSouthern.edu.