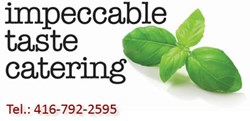 Thanks Rodney! Once again, you drove this one out of the park. Awesome food!
Toronto, Ontario (PRWEB) October 29, 2013
A winter menu doesn't have to be tame, thanks to the culinary prowess of Rodney Kaufman, CEO and Executive Chef at Toronto's Impeccable Taste Catering. Working closely with his clients, Kaufman has designed a catering menu that celebrates the changing of the season, bringing local produce to life.
With the holiday party season rapidly approaching, planning unique catered events in Toronto has never been easier, thanks to Impeccable Taste's team of talented experts. Whether the plan is a low-key brunch or a gigantic party, the menu and decor will be created for exacting tastes.
Go beyond the basic turkey and stuffing. Here, Chef Kaufman gives us a sneak peek at what's hot in catering menus for the holiday season:
Sumptuous Glazes: The holiday season calls for a special glaze that can be used on a variety of meats, from ham to duck. Apple cider, bourbon, brown sugar, maple, molasses...the options are virtually limitless and will heighten the flavour of your main course.
Aromatic Cocktails: Cranberry flavours are generally the name of the game when it comes to holiday cocktails, but it's easy to spice up the tried-and-true ingredient with a little kick. Cider, cinnamon and peppermint will all give your signature drink a memorable flavour, with or without alcohol.
Delectable Desserts: Get back to basics with a gingerbread that does not come in the shape of a house. A rich and satisfying traditional gingerbread cake, made with sour cream and dark rum, is a welcome addition to any holiday catering menu.
Whether in the boardroom or off-site, Impeccable Taste's team of industry experts is equipped to facilitate breakfasts, lunches and dinner meeting spreads. From convenient disposable trays for internal affairs to full china and glass service for special occasions, Impeccable Taste's business catering model integrates seamlessly into its clients' corporate culture.
Impeccable Taste Catering works with private individuals, companies and corporations in Toronto and the wider Greater Toronto Area markets. Services include expert event planning and catering for casual lunches, seminars, conferences, product launches, release parties, corporate affairs and weddings, among other social events. Visit itcatering.ca for more details.