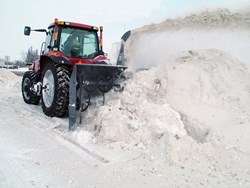 Loftness I Series snow blowers use proven, reliable chain drives, oversized gearboxes, large bearings and thick steel construction for maximum durability.
Hector, Minnesota (PRWEB) October 29, 2013
Loftness introduces the I Series to its SnowLogix line of snow blowers. The new series includes four models of industrial-duty, tractor-mounted units. They are available in 9- and 10-foot widths for efficiently moving large amounts of snow.
Engineered for large tractors with tall tires, all models in the I Series offer a two-stage design with 16-inch-diameter augers and extra-large, 36-inch-diameter fans. Both 9- and 10-foot blowers are available with either two or three augers. Models with two augers measure 48 inches high, while those with three augers measure 66 inches high.
Additionally, the I Series uses a proven, reliable chain drive, oversized gearbox, large bearings and thick steel construction for maximum durability. Maintenance is kept simple with easy-access shear bolts, extra-large skid shoes and a bolt-on cutting edge.
Also standard is a hydraulically adjustable spout with a 14-inch diameter and 270 degrees of rotation. Truck-loading spout options are also available. Other options include hydraulic- and electric-actuated deflectors.
I Series snow blower requirements include a Category II or III three-point hitch, 1,000-RPM PTO, and 140 to 200 PTO horsepower.
Loftness manufactures the SnowLogix line of snow blower attachments, the VMLogix line of vegetation management equipment, the GrainLogix line of grain-bagging equipment and the CropLogix line of crop shredders. For more information on Loftness' complete product line, contact Loftness Specialized Equipment, P.O. Box 337, Hector, MN 55342, call 800-828-7624 (U.S. and Canada) or 320-848-6266 (international), email info(at)loftness(dot)com, or visit http://www.loftness.com.