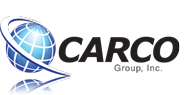 He has an exceptionally bright future. This will provide a level of mobility he doesn't have now.
Holtsville, NY (PRWEB) October 30, 2013
CARCO Group was honored to team with the nonprofit 4 Wheel 2 Heal to donate an Action TrackChair to wounded Fort Bragg soldier, Sgt. Jonathon Rivenbark, to give him a gift of mobility.
Sgt. Rivenbark was deployed with the 4th Brigade Combat Team, 82nd Airborne Division, when he was wounded in Afghanistan last year. The injuries killed the nerves in Rivenbark's legs. To walk, he uses crutches and an implant that sends a shock through his nervous system to make his legs move. He's limited to just a few hundred yards an outing.
Many of CARCO Group's employees in its Spring Lake office are veterans and the company wanted to give back to the Fort Bragg community.
Ultimately, the company decided on donating the chair to a wounded soldier on Fort Bragg.
John Davidson, CARCO's Vice President of Research Operations and a veteran himself, said the company worked with the Warrior Transition Battalion to find Rivenbark, who originally didn't think he deserved the chair.
"That's when I knew we had the right guy," Davidson said. "He has an exceptionally bright future. This will provide a level of mobility he doesn't have now."
Riverbank, who likes the outdoors, said he and his wife, Yulia, would test it on Fort Bragg's trails this weekend.
About CARCO Group, Inc.:
CARCO is an HR technology and paperless workflow solutions company. Started in 1977 as a background screening company, CARCO has evolved to become a full-service HR partner, helping clients manage their new hire process in standalone solutions or integrated with their Applicant Tracking System. CARCO's Onboarding Solution eliminates paper processes and ensures efficient and compliant hiring. Full-service offerings include background screening products, electronic I-9/E-Verify processes, vendor screening, and drug testing.