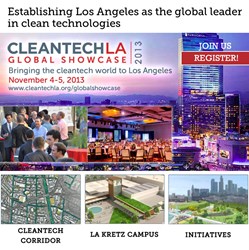 "In addition to being one of the top start-up friendly cities in the world, LA is also one of the most environmentally conscious." - Eric Garcetti, Mayor of Los Angeles
Los Angeles, CA (PRWEB) October 28, 2013
Cleantech Los Angeles (CLA) – a nonprofit collaboration between UCLA, USC, Caltech, JPL, the Los Angeles Mayor's Office and numerous other Greater LA organizations – today announced its Global Showcase Nov. 4 – 5 to bring together leaders in industry, government and academia with some of the region's leading clean technology startups in an effort to drive innovation, investment and business (http://cleantechla.org/globalshowcase/).
With support from JPMorgan Chase, Southern California Edison and a number of other key partners, the two-day event will take place at the JW Marriott @ LA Live, featuring more than 70 presenters from 16 global markets. Speakers will include:

Eric Garcetti - Mayor of Los Angeles
Dr. Cheryl Martin - Deputy Director of ARPA-E, US Dept. of Energy
Michael Picker - Senior Advisor to Governor Jerry Brown on Renewable Energy Facilities
Mary Nichols - Chairwoman of the California Air Resources Board
Jim McDermott - Managing Partner, US Renewables Group
David Nahai - Partner, Lewis, Brisbois, Bisgaard & Smith
"We're bringing together the most passionate players in cleantech across the globe, diving into the opportunities and challenges we face and finding concrete ways to move forward toward a future that combines sustainable use of our natural resources with profitable practice," said Fred Walti, Executive Director of CLA and LACI. "Los Angeles is the perfect place to do that."
Los Angeles is a global leader in the clean technology sector, with its unique combination of sheer market size, progressive policy, and world-class research institutions, talent, and technology. The CLA Global Showcase embodies the City's strong commitment toward economic development and sustainability, demonstrated in part through its support of the Los Angeles Cleantech Incubator (LACI), Cleantech LA (CLA), and the state-of-the-art La Kretz Innovation Campus being built now.
"In addition to being one of the top start-up friendly cities in the world, LA is also one of the most environmentally conscious," said Eric Garcetti, Mayor of Los Angeles. Our support of important initiatives like Cleantech LA, that grow green jobs and support innovative solutions to climate change, are at the forefront of creating a clean energy economy."
"At JPMorgan Chase, we know that supporting a more environmentally sustainable global economy is a challenge with real implications for every sector of modern society, including financial services," said Robert Lagace, market manager for Chase Middle Market and Commercial Banking. "That's why we are employing our knowledge and capital to help clients, customers and the communities we serve to respond to the environmental sustainability challenge. We're also helping our clients take advantage of the business opportunities created by the transition to a more sustainable global economy."
There is no shortage of compelling clean technologies and teams in Los Angeles, as evidenced by the twenty plus companies presenting at the event. Yet, they all need capital to develop their solutions and finance new projects. Building on early lessons learned, some of the most knowledgeable sources for emerging financial models and markets will share their expertise at the Global Showcase.
"New models that give capital markets renewed confidence to invest in cleantech sectors are emerging, and gaining traction," said Jim McDermott, Managing Partner of US Renewables Group. "This Global Showcase will be a great opportunity to share ideas and examples of what is working and where the market is moving across the globe."
As nexus for international trade, it is fitting for LA to host an event that also brings dignitaries from the Americas, European Union, Asia Pacific and Middle East together to dive into the size, trends and dynamics of the sustainable markets in each region.
"The CLA Global Showcase provides a rare forum for countries and companies from around the world to present and discuss their respective markets, capabilities and ambitions in the clean/green tech arenas. The positive reaction of the international business and diplomatic community to the Showcase underscores not only the value of the event, but also the role of Los Angeles as a leader in supporting and fostering the growth of clean/green tech industries worldwide", said David Nahai, President of David Nahai Consulting Services, Partner at Lewis Brisbois, and former General Manager of the Los Angeles Department of Water and Power.
More information on the CLA Global Showcase can be found at http://cleantechla.org/globalshowcase
About Cleantech Los Angeles
Cleantech Los Angeles (CLA), is a multi-institutional collaboration between UCLA, USC, Caltech, Jet Propulsion Laboratory (JPL), the Los Angeles Mayor's Office, Los Angeles Department of Water and Power (LADWP), Los Angeles Chamber of Commerce, Los Angeles Business Council (LABC), Central City Association (CCA), Central City East Association and the Los Angeles County Economic Development Corporation (LAEDC), to establish Los Angeles as the global leader in the research, commercialization, and deployment of clean technologies. Learn more at http://www.cleantechla.org.
# # # # #
Media Contact:
Lolo Siderman, Gypsywing Media
310-975-9706
laci(at)gypsywing(dot)com