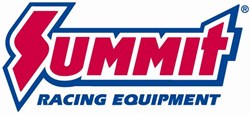 Tallmadge, OH (PRWEB) October 29, 2013
SEMA 2013 will be showcasing the latest products for almost anything on four wheels and features the latest concept vehicles and shop projects from all over the world. Summit Racing is helped out with three of those project vehicles, and is proud to have its name on the fourth.
Rutledge Wood's 1949 Chevy Step Van
When Top Gear on History co-host Rutledge Wood wanted to build an aluminum breadbox on wheels, he turned to Summit Racing for parts and tech advice. Built by American Resto Rods, the '49 Chevy sits on a much-modified Chevy 2500 HD pickup chassis. Power comes from a Chevrolet Performance 525 HP LS3 crate engine backed by a Performance Automatic Street Smart 4L80E transmission. Other bits include a full Vintage Air climate control system, a custom MagnaFlow exhaust system, a Be Cool cooling module, and parts from ididit, American Autowire, and Classic Instruments.
The Rutledge Wood van will be at the MagnaFlow display at SEMA, booth #23543. Van build stories are available at Summit Racing's blog, On All Cylinders.
Wes Adkins' 427 Wildcat 1967 Cougar
Wed Adkins, owner of Wild Wes Paintworks in Dover, Ohio, has built a Pro Touring Cougar worthy of its name. The '67 was Wes's daily driver for a few years before he decided to redo it as the ultimate Cougar. The car has a 427 cubic inch Ford Windsor with twin superchargers that Wes says will make 800 horsepower without breaking a sweat. The engine is backed by a Cyclone Transmissions' 4L80E automatic. The Detroit Speed suspension will insure the Cougar will handle like a, well, cougar. Of course, the car will have some cool body modifications and a killer paint job.
The 427 Wildcat will be at the Meguiar's Car Crazy TV display at SEMA, and will be the subject of a video feature for the show. Follow the build on Wes' Facebook Page (https://www.facebook.com/427Wildcat).
Strange Motion 1964 CorvarI
We'd love to dish on the Corvair Tim Strange is building for his wife Carrie, but he's keeping the project under wraps until its unveiling at SEMA. The Corvair will have a radical Chevy V6 up front, big hoops, Wilwood four-wheel disc brakes, and a host of the custom body touches. Carrie actually won a spot at SEMA through a contest sponsored by Royal Purple Oil to choose a woman-owned car as a feature vehicle in the Royal Purple Ladies display at the show.
Don Garlits' Swamp Rat 37 Electric Dragster
Built by Lawless Industries, Swamp Rat 37 is powered by a High Tech Systems battery pack that can generate 1,500 kilowatts of electricity. That's over 2,000 horsepower in internal combustion-speak. The instant torque of electric motors provides near-instant torque off the line, which generates some awesome 60-foot times. In testing earlier this year, Swamp Rat 37 recorded 60-foot times in the low one second range and hit the 330 foot timers in 3.22 seconds. Don's next goal is to be the first to run 200 miles per hour in an electric dragster. As one of Big Daddy's supporters, Summit Racing will along for the ride.
Swamp Rat 37 will be at the Lincoln Electric display, booth #23527. You can learn more about the car at Bangshift.com (http://bangshift.com/blog/video-watch-don-garlits-make-passes-in-a-very-quick-electric-dragster-don-gives-us-the-scoop.html).
Summit Racing Equipment
SummitRacing.com
1-800-230-3030