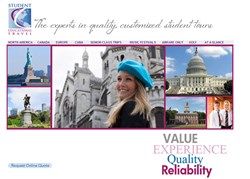 Dedham, MA (PRWEB) October 30, 2013
Student Educational Travel's innovative website, http://www.studenteducationaltravel.com, was redesigned to make the overall process of finding a customized tour to North America, Europe and the Caribbean not only easier by directing educators to travel experts who will handle the start-to-finish process of organizing group trips.
The website redesign features easy-to-use navigational tools and highlights the agency's services for student educational travel, senior class trips, music festivals and specialized golf itineraries. Visitors to the new site will find that S.E.T. has expertise in a variety of customized travel itineraries offered by middle and high schools around the country.
"By utilizing the relationships our parent company, Colpitts World Travel, has built with hotel and transportation companies throughout the world, Student Educational Travel is able to open the door for schools to take advantage of services and prices they may not have otherwise known are available to them," said Student Educational Travel's Director of Sales John Hayes. "S.E.T. is thrilled to move forward with the introduction of its new, modernized website and has high expectations for the ease it will bring its customers."
Studenteducationaltravel.com provides current and prospective customers with multiple ways to contact the agency. Email an experienced travel specialist, connect with the company on LinkedIn or give them a call at 781-326-7800.
The experts at S.E.T. will take the task of trip planning off of educators and use their connections to ensure that itineraries meet the needs of each school or group while providing the best possible value for students and families. Since S.E.T. focuses on student travel management, the company is uniquely positioned to handle everything from meal planning to security arrangements.
About Student Educational Travel:
Student Educational Travel has been providing high quality customized tours to middle and high schools for over 20 years. We specialize in historic and music tours to areas like Washington D.C., New York, and Philadelphia, as well as senior class trips to Disney, Puerto Rico and Bermuda, language class tours to Cuba, Europe and Canada. Our parent company, Colpitts World Travel has been the established leader in providing global travel management services for more than 120 years. Headquartered in Dedham, Massachusetts, today the company operates 25 offices throughout the United States with additional offices across the globe, including international headquarters in Toronto, Canada and Edinburgh, Scotland.