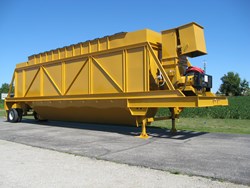 ADM baghouses are more than 99.8% efficient, and comply with strict EPA clean air regulations.
Huntertown, IN (PRWEB) October 29, 2013
Asphalt Drum Mixers, Inc. (ADM), introduces two options of baghouses, which are ideal for use with its line of portable and stationary asphalt plants, and can also be used with similar competitive models of asphalt plants. The baghouses are designed to collect dust created by plant operation and release clean, filtered air into the atmosphere.
Available in stationary/relocatable and portable configurations, the baghouses ensure proper dust handling and management in asphalt plant operations. They are more than 99.8% efficient, and comply with strict EPA clean air regulations.
The aggregate drying process that occurs during plant operation produces dust and dirty air. The contaminated air and dust are directed from the dryer into the baghouse, which features oversized pre-cleaner air entry. As the air moves through the baghouse, the bags act as filters, collecting the dust and cleaning the air as it flows through. The dust remains trapped to prevent it from being expelled into the atmosphere, while the clean, filtered air continues to move through the baghouse and is eventually forced out by a Twin City BCS Series exhaust fan.
ADM baghouses allow most of the dust to be sent back to the hot aggregate and used in the asphalt concrete mixture, resulting in less waste and a more economical operation. If unusable, the dust remains in the bags until a periodic burst of air from the air compressor dislodges it. This excess dust falls into the hopper, where it is collected and removed by the screw conveyors. Accessing the screw conveyors to clean out the excess dust is quick and easy, and can be done by simply removing the airtight hopper access plates.
The 14-ounce capacity, 400º Fahrenheit-rated nomex bags are housed in 11-gauge, galvanized steel cages to prevent them from collapsing. Internal grids installed above the hopper serve as a bag catcher. Bags are easily removed through the airtight, lift-off doors in the roof. An optional primary knockout box is available and features a baffle plate incorporated into the housing, which decreases air velocities and prevents premature bag wear.
Safety features on the stationary/relocatable baghouses include a caged roof-access ladder, top perimeter tubular guardrail and solid-steel toe-stop kickplate. The portable baghouses feature a heavy duty I-beam structural frame, with high temperature fiberglass blanket insulation and a .016 gauge aluminum insulation jacket. Accessories for the portable baghouses include leaf spring suspension, air brakes, four radial tires and a gooseneck trailer with a fifth wheel kingpin hitch. An interconnecting equipment wiring package features quick disconnects on the control cables.
A family-owned company since 1974, Asphalt Drum Mixers, Inc. offers asphalt plants, auxiliary equipment, parts and service. For more information, contact ADM, 1 ADM Parkway, Huntertown, IN 46748, call 260-637-5729, fax 260- 637-3164, e-mail sales(at)admasphaltplants(dot)com or go to http://www.admasphaltplants.com.