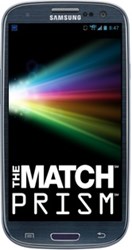 "The iPhone version of PRISM has been extremely well received by Match applicants, so we are delighted that the Android version is now available," said Mona M. Signer - NRMP Executive Director
Washington, D.C. (PRWEB) November 07, 2013
The National Resident Matching Program (NRMP) is pleased to announce the release of The MATCH PRISM -the Program Rating and Interview Scheduling Manager app for Android. The MATCH PRISM is a free smartphone app that enables Main Residency Match applicants to track programs during the interview process and create ratings that can be used to generate a rank order list for submission in the Match. Applicant and program director rank order lists are used to match applicants into available training positions in U.S teaching hospitals.
"The iPhone version of PRISM has been extremely well received by Match applicants, so we are delighted that the Android version is now available," said NRMP Executive Director Mona M. Signer.
Features of The MATCH PRISM app for Android

The Main Residency Match schedule of events
A comprehensive directory of all residency programs participating in The Match including contact information, NRMP and Accreditation Council for Graduate Medical Education® (ACGME®) program codes, and website links
A program rating system using the twenty factors that respondents to NRMP's Applicant Survey designated as most important in program selection
The option to create custom program criteria
A calendar that syncs to your device calendar and allows applicants to track whether they have applied to a program and scheduled or completed an interview
A "notes" function for entering free-form text about each program
The MATCH PRISM app for Android is free and available for download from Google Play TM. Looking for The MATCH PRISM for iPhone or iPad? Download for iPhone or iPads here. The Match PRISM app will be expanded to include all NRMP Fellowship Matches in 2014.
The NRMP Match
The Match uses a computerized mathematical algorithm to align the preferences of applicants with the preferences of residency program directors in order to fill training positions available at U.S. teaching hospitals. Research on the NRMP algorithm was a basis for awarding the 2012 Nobel Prize in Economics.
About NRMP
The National Resident Matching Program (NRMP) is a private, non-profit organization established in 1952 at the request of medical students to provide an orderly and fair mechanism for matching the preferences of applicants for U.S. residency positions with the preferences of residency program directors. In addition to the Main Residency Match, the NRMP conducts matches for more than 40 subspecialties. For more information, contact NRMP at 1-866-653-NRMP (6767) or visit nrmp.org. For interviews, please email cherbert(at)nrmp(dot)org.
###
Android is a trademark of Google Inc. Google Play is a trademark of Google Inc.