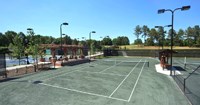 Charlotte, North Carolina (PRWEB) October 30, 2013
Timmons Group, an ENR 500 Design Firm and a leader in multi-discipline civil engineering, environmental and geospatial consulting services, is excited to announce that the Carmel Country Club Tennis Facility in Charlotte, North Carolina has been presented with the 2013 United States Tennis Association (USTA) Outstanding Facility Award. They are one of only nine private clubs across the country to be given such an award.
Timmons Group was responsible for the design of a total renovation utilizing the club's existing facility, with long-term maintenance in mind in order to ensure the facility can be enjoyed for years to come. Specific features included ten new clay courts, two asphalt courts as well as shade structures, spectator viewing areas, and landscape and hardscape features.
Facilities were judged on their overall layout and adaptation to site; excellence of court surface and lights; ease of maintenance; accommodations for players, spectators and press/officials; aesthetics; signage; landscape and hardscape; amenities such as casual seating for spectators, food services and social areas; and the facilities' participation in USTA programs.
The Outstanding Facility Award was presented to the Carmel Country Club Tennis Facility on September 1, 2013 during a reception at the Grand Hyatt Hotel in New York City.
"We would like to congratulate Carmel Country Club on being a 2013 Outstanding Facility Award Recipient." said Brian Crutchfield, Principal for Timmons Group's North Carolina operations. "It was a pleasure to work with the club in achieving their vision for a first class tennis facility to serve their membership. Their commitment to quality as well as their attention to the small details will ensure that they have a premier tennis facility."
The USTA is the largest not-for-profit organization, promoting the growth of tennis on all levels, from local communities to the US Open. With over 17 geographical sections, more than 700,000 individual members and thousands of organizational members, volunteers, and professional staff the USTA is dedicated to growing the game in the United States and beyond.
About Timmons Group
Timmons Group is a multi-disciplined engineering and technology firm recognized for nearly twenty years as one of Engineering News Record's (ENR) Top 500 Design Firms in the country. The firm provides civil engineering, environmental, GIS/geospatial technology, landscape architecture and surveying services to a diverse client base. Headquartered in Richmond, Virginia, Timmons Group has regional offices throughout Virginia and North Carolina. For more information, visit http://www.timmons.com.
Media contact:
Tim Klabunde
Director of Marketing
tim.klabunde(at)timmons(dot)com