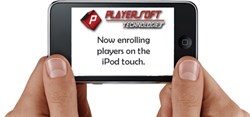 More clients are learning how Mobile Enrollment creates a better guest experience.
San Diego, CA (PRWEB) October 29, 2013
In the beautiful Cumberland Mountains of Maryland, Rocky Gap Casino Resort has added Playersoft's Mobile Enrollment to its casino amenities. The system scans driver's licenses from all 50 states, allowing casino staff to enroll new guests into the players club anywhere on the casino floor utilizing a specialized iPod Touch.
"It's gratifying when a property like Rocky Gap understands the competitive edge they embrace by utilizing a platform like Mobile Enrollment," says Playersoft President, Tony de Leon. "The system dovetailed with their casino marketing system, as well as their entire philosophy of creating a trouble free, easy going approach to the guest experience."
Mobile Enrollment allows casino personnel to be more involved with guests and eliminate time consuming lines at club benefits booth. "Mobile technology is doing more for casinos than tracking players," says de Leon. "It's creating a new age of personal service in the gaming industry."
Mobile Enrollment is designed to seamlessly interact with existing casino systems helping operators elevate the interaction between a guest and service personnel and create real time payoff by using this digital platform.
"Our staff all comes from casino operations and we know gaming management is a fast moving endeavor even if you're property is on a quiet serene lake," says de Leon. "We make the process easier for casino hosts and staff on the back end as well as for their guests. That's when you know you're creating a win for everyone."
Utilization of an Apple iPod Touch makes the entire system small, lightweight and easy to use. "We've been casino operators ourselves," says de Leon. "Through our experience in Las Vegas resorts and Native American gaming operations, we know the importance of making the casino player's visit convenient and hassle free regardless of a property's size."
Mobile Enrollment is designed to create profitability in a number ways from streamlining the enrollment process to the identification of players and their gaming preferences.
"The system is a powerful mobile application with a straight forward and easy to use interface," says Vice-President of Technology, Hunter Hunstock. "It's really satisfying when a client uses the product at one property, then comes back for more."
Mobile Enrollment also features an offline mode allowing staff to reach out to players at offsite events adding even greater reach and furthering the player's experience and creates a positive impression of the level of service the casino is willing to provide. It is part of a suite of products offered by Playersoft which all utilize the iPod Touch technology allowing each platform to interact together and with any current casino system.