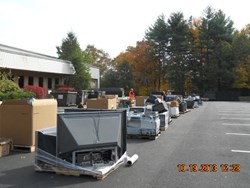 Solutions for a healthy planet
Mansfield, MA (PRWEB) October 29, 2013
Miller Recycling's Third Annual E-Waste Event that was held on October 19th 2013, was a great success. Miller Recycling had over 250 attendees at their Mansfield, MA location, and recycled in excess of 20 tons of electronic scrap in 6 hours.
The company accepted all types of E –Waste, including televisions, monitors, computer, laptops, phones, video games, fax machines, copiers and more. Randy Miller, company President, also assisted with material handling and unloading. With limited options for the proper recycling of this material much of these items could have ended up improperly disposed of in landfills.
Miller Recycling would like to thank all those from Mansfield and various surrounding communities that participated and helped make this event worthwhile. 100% of the materials collected will be disassembled and properly recycled.
They look forward to hosting other events to help the environment. Check them out on their Facebook page and do not forget to "LIKE" them while you are there!
Miller Recycling accepts all types of electronic scrap during normal business hours, so please call 800-783-6766 for more information. Pickup service is also available.
About Miller Recycling Corporation
Miller Recycling is a fourth generation family owned company with the experience required to assist with all paper, metals, plastics, and electronics recycling requirements. Northeast Data Destruction, our NAID "AAA" Certified confidential shredding division, will securely process all your sensitive documents, files, media, hard drives, tapes, CD's, off spec products and storage components. You can visit the company's web site at http://www.millerrecycling.com.