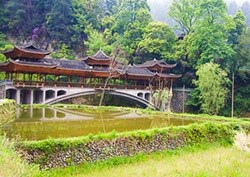 These communities are still linked to the past through architecture, celebrations, music and social practices.
Ann Arbor, Michigan (PRWEB) October 29, 2013
JOURNEYS International expands its trip offerings with Finding Forgotten China, a visit to remote mountain villages of southern China far from the traffic, smog and crowded tourist sites.
As China develops, traditional culture is disappearing. But in the most remote ethnic communities of the southern mountains, life is little changed. JOURNEYS International's new trip, Finding Forgotten China, takes travelers on an eleven-day tour by private van to the lush, green, forested mountains in the boundary area of Guizhou, Guangxi and Hunan Provinces where visitors will see and experience these vanishing cultures. "This is really a chance to go back in time," JOURNEYS director Will Weber notes. "These communities are still linked to the past through architecture, celebrations, music and social practices."
Here the traditions and visions of ancient China are still accessible to travelers willing to venture deep into rural and mountainous regions. Dong, Miao and other tribes still flourish and protect their distinctive lifestyles, though their continued survival remains in question. "Many of the older people have never been out of the mountains and see no reason to leave," Weber continues, "but for young people the bright city lights and the promise of better economic opportunities are just a long bus ride away and they are leaving."
This small group trip quickly leaves the popular tourist routes behind and ventures into the rugged terrain that hides and protects these little-known, friendly cultures of China. Travelers, with assistance from a local guide will connect to local people in traditional dress, and be presented with exceptional opportunities for cultural and landscape photography to gain a full sense of China as it used to be. Some optional hiking opportunities are also available.
Join JOURNEYS International's Gail Scherer on this program, October 13-23, 2014 or choose from other group dates. This itinerary is also available for your own small party on your own dates. Add in more hiking, biking, photography or nature observation as well as extensions to other areas of China.
About JOURNEYS International
JOURNEYS International is the longest standing family-owned global ecotourism company in the US offering full-service exotic, guided cross-cultural explorations, nature safaris, treks and eco-tours in remote corners of Asia, Africa, the Americas and the Pacific. Founded by current directors Will and Joan Weber in 1978, JOURNEYS boasts an extraordinary record of client satisfaction and industry awards. For more information please visit: http://www.JOURNEYS.travel
Contact: Joey Lechtner, Marketing
joey(at)journeys(dot)travel
800.255.8735