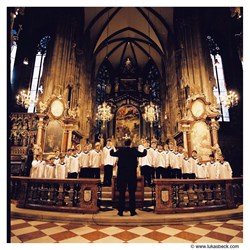 Cambridge, MA (PRWEB) October 30, 2013
St. Paul's Choir School and Spectacle Management proudly present The Vienna Boys Choir Holiday Celebration, Friday, December 6 at 8 PM at St Paul's Church in Harvard Square, Cambridge, MA. Tickets for The Vienna Boys Choir ($45-$65) are on sale now and are available by calling (617) 531-1257 and at http://www.viennaboyschoir.net.
Experience traditional and contemporary holiday favorites performed by one of the greatest musical ensembles in world history. The Vienna Boys Choir began singing at the court of the Holy Roman Emperor in 1498, more than half a millennium ago. Until 1918, the choir sang exclusively for the imperial court, at mass, at private concerts and functions, and on state occasions. Today, the choir performs select dates for adoring audiences throughout the world. Don't miss your chance to see them this holiday season in the breathtaking St Paul's Church in Cambridge.
Today's Vienna Boys Choir includes approximately 100 choristers between the ages of ten and fourteen, divided into four touring choirs. The four choirs give around 300 concerts and performances each year in front of almost half a million people. Each group spends nine to eleven weeks of the school year on tour. They visit virtually all European countries, and they are frequent guests in Asia, Australia and the Americas.
Together with members of the Vienna Philharmonic Orchestra and the Vienna State Opera Chorus, the Vienna Boys Choir maintains the tradition of the imperial musicians: as Hofmusikkapelle, they provide the music for the Sunday Mass in Vienna's Imperial Chapel as they have done since 1498. On 1 January 2012, the choir participated for the fifth time in the New Year's Concert of the Vienna Philharmonic Orchestra, conducted by Mariss Jansons.
The Vienna Boys Choir holiday performance comes to St Paul's Church as part of the 50th anniversary celebration of the founding of the St Paul's Church Choir school, one of the premier choir schools in the United States. Since 1963, Saint Paul's Choir School has formed and educated boys in grades four through eight in the rich music tradition of the Roman Catholic Church. The Choir School seeks to embrace the great cathedral school tradition as it unites a rigorous musical and academic curriculum with the Catholic faith and moral tradition preparing each student to grow and flourish in a dynamic and changing world.
Spectacle Management is a full-service booking, marketing and promotion firm, specializing in the presentation of concerts, theatre, comedy and family entertainment at venues throughout New England. For interview requests, additional artwork and other information or content, please contact Peter Lally, plally(at)specmgt(dot)com, (617) 531-1257 x701.
###