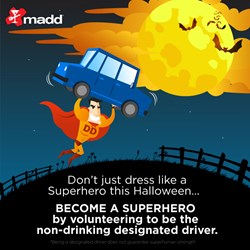 Halloween can be a special day for children to celebrate their love of make-believe and magical moments.
Dallas (PRWEB) October 29, 2013
Halloween is an exciting time, filled with magical princesses, scary ghosts and bewitching goblins. It can also be a very dangerous time when drivers mix holiday fun with alcohol.
Data from the National Highway Traffic Safety Administration indicates that Halloween is among one of the most deadly holidays for drunk driving. For the holiday period — from October 30 through 5:59 a.m. on November 1, 2011 — 74 people died nationwide in a crash involving a drunk driver, a 21 percent increase over the average number of drunk driving deaths per day. That is why Mothers Against Drunk Driving (MADD) is asking everyone to make advance plans to stay safe.
"Halloween can be a special day for children to celebrate their love of make-believe and magical moments," said Jan Withers MADD National President. "However, it can also be a time for other kinds of celebrations, so I encourage people to take extra care to be safe this Halloween."
Whether you are trick-or-treating with your child, headed to a party or hosting a party, please consider these safety tips:
Going trick-or-treating:

Be extra alert when crossing the street.
Wear bright, reflective clothing or add reflective tape to costumes and treat buckets.
Bring a flashlight (with extra batteries) so you can see and be seen at night.
Attending a party:

Designate a non-drinking driver before you head out to make sure you — and everyone with you — arrive home safely.
Save the number of a local cab service in your phone prior to heading out.
Consider hiring a shuttle or limousine service to transport you and your friends to and from your event.
Arrange a hotel stay for you and your friends on the evening of the event so no one drives home impaired.
Hosting a Halloween party:

Never serve alcohol to those under the age of 21.
Plan safe parties, including providing non-alcoholic drink options to guests and not serving alcohol during the last hour of the party.
Provide plenty of food to keep your guests from drinking on an empty stomach.
Avoid too many salty snacks, which tend to make people thirsty and drink more.
Be prepared to get everyone home safe by having the number of a taxi service on hand for those who need a ride.
Remember to put safety first this Halloween by designating a non-drinking driver and encouraging everyone else to do the same.
About Mothers Against Drunk Driving
Founded by a mother whose daughter was killed by a drunk driver, Mothers Against Drunk Driving® (MADD) is the nation's largest nonprofit working to protect families from drunk driving and underage drinking. With the help of those who want a safer future, MADD's Campaign to Eliminate Drunk Driving® will end this danger on America's roads. PowerTalk 21® is the national day for parents to talk with their kids about alcohol, using the proven strategies of Power of Parents® to reduce the risk of underage drinking. And as one of the largest victim services organizations in the U.S., MADD also supports drunk and drugged driving victims and survivors at no charge, serving one person every 8.6 minutes through local MADD victim advocates and at 1-877-MADD-HELP. Learn more at http://www.madd.org or by calling 1-877-ASK-MADD.