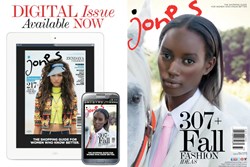 Jones is great for the hottest trends in fashion and beauty, trust me you are going to love it. It's a one stop shop for what's new and next. I can't wait to get all the future issues right on my iPad! - Zendaya Coleman
New York, NY (PRWEB) October 29, 2013
Jones Magazine, the premier fashion, beauty and lifestyle glossy/shopping guide targeted towards a multicultural, global audience is announcing that it will now be available for purchase on PC and MAC, Apple Newsstand and Android devices, in addition to regular sales at retail newsstands. The Apple App Store, Kindle Fire and subsequent HD devices will provide yet another platform for the publisher as distribution and sales continue to grow.
"We are thrilled that we are now able to offer Jones Magazine on PC and MAC, Apple Newsstand and Android devices. Since the launch with national distribution, we have created a business that has become very important and relevant for all women especially women of color who are sophisticated and smart concerning their style and shopping decisions. You can now obtain a digital copy of each and every issue of Jones Magazine at your fingertips," says L Londell McMillan, Publisher, Jones Magazine.
"This is an exciting step! Publishing digital allows us the ubiquity our growing audience deserves. The Jones brand is one that represents what's next, what's fresh and what's accessible for women, so this move is so apropos for us," says Tracey Ferguson, Editor, Jones Magazine.
The first issue of Jones Magazine to be available on this platform is the Summer 2013 issue featuring Zendaya Coleman on the cover. The current 4th Annual Fall Fashion issue is available as well.
"Jones is great for the hottest trends in fashion and beauty, trust me you are going to love it. It's a one stop shop for what's new and next. I'm thrilled to be featured in it and can't wait to get all the future issues right on my iPad!" says Zendaya Coleman.
Best known for being a fashion and beauty shopping guide for women who know better, Jones Magazine is unafraid to provide its readers with insightful pieces and profiles on subjects and people that matter to them. In the most recent Fall Fashion Issue, Jones probes the issue of race on the designer runways in the article "Is There Any Room Left On The Catwalk?" And those looking for their celeb fix won't be disappointed by stories on personalities such as DJ Rashida and Kelis. Get the best looks, trends, buys, beauty tips, living, events, entertainment and more from Jones Magazine.
As one of the most progressive and innovative fashion publications to hit the market in recent memory, Jones' digital move is just one more way the magazine embraces the future of media fearlessly - as it always has and always will.
About Jones Magazine
Jones Magazine (http://www.jonesmagazine.com) is the leading lifestyle shopping guide glossy targeting multi-cultural women and catering to fashion enthusiasts who share a penchant for what's hot, new and yet-to-be discovered. Jones Magazine is a division of The NorthStar Group, and distributed nationally on newsstands. Be sure to follow Jones Magazine @JonesMag on Twitter and Facebook.com/JonesMag, and Instagram @JonesMag.
About The NorthStar Group
The NorthStar Group is a publishing, marketing and consulting firm specializing in music, entertainment, sports and corporate initiatives. Founded in 1997, The NorthStar Group is affiliated and represents some of the nation's leading celebrities, entertainers, websites and media brands including The Source Magazine and Jones Magazine.