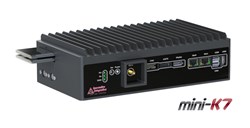 "The mini-K7 modular I/O, ultra-performance FMC options and easy to use PC architecture, provide multiple solutions."
Simi Valley, CA (PRWEB) October 30, 2013
Innovative Integration, a trusted supplier of signal processing and data acquisition hardware and software solutions, today announced the mini-K7, a user-customizable, turnkey embedded instrument that includes a user-programmable Kintex-7 FPGA, full PC functionality running Windows/Linux and a single FMC site compatible with a wide assortment of ultimate-performance FMC modules. With its modular I/O, scalable performance, and easy to use PC architecture, the mini-K7 reduces time-to-market while providing the performance our customers require.
The Mini-K7 offers many solutions; embedded instrumentation, distributed data acquisition, mobile instrumentation and remote, autonomous IO. Markets include, Wireless, Industrial Control, Military Hardware, Medical Imaging, Telecom/Intelligence, and Test & Measurement.
Features:

Combines an industry-standard COM Express CPU module with a single FMC I/O module in an extremely compact, stand alone design
Programmable Kintex-7 325/410 and Spartan 6 FPGAs
Small form factor: 4" H x 7" W x 10" D
Conduction cooled design: Fins or cold-plate
Stand-alone operation: Able to operate headless, booting from SSD
Windows/Linux 32/64-bit OS support. RTOS availability
VITA 57 FMC IO module site. Add anything from RF receivers to industrial control modules.
IO site (VITA 42.3) delivers >3000MB/s to CPU memory**
Integrated timing and triggering support for IO includes GPS, IEEE1588 or IRIG -disciplined clock
Supports Innovative and third-party FMC modules for private data channels, triggering and timing features
USB 3.0 x2/2.0 x2, Gb Ethernet, SATA x4, DisplayPort, Touch Screen
Up to 2 SSD (2.5 in)
AC or DC operation
About Innovative Integration
Innovative Integration, a subsidiary of Interconnect Systems, Inc. (http://www.isipkg.com). Since 1988, Innovative Integration has grown to become one of the world's leading providers of signal processing and data acquisition hardware and software. For more information on Innovative Integration please visit http://www.innovative-dsp.com. All trademarks mentioned are the property of their respective owners. Press: http://www.innovative-dsp.com/company/press.htm