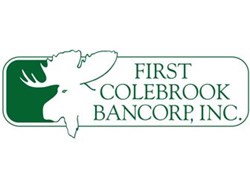 "We are pleased to report growth in assets and deposits during the past year in which our economy has failed to gain sustained momentum."
Colebrook, NH (PRWEB) October 30, 2013
First Colebrook Bancorp (FCNH) released consolidated financial results (unaudited) for the nine months ending September 30, 2013 on October 28, 2013. In the first nine months of 2013, First Colebrook Bancorp, Inc. continued to grow in assets, deposits and net income over the comparative first nine months of 2012.
Total assets increased 6.6% to $263,855,507 at September 30, when compared to September 30, 2012. Net loans were up 1.3% to $180,336,170 and deposits increased 6.0% to $224,903,706 over the same period comparison. President & CEO Loyd W. Dollins stated, "We are pleased to report growth in assets and deposits during the past year in which our economy has failed to gain sustained momentum."
Net income for the nine months ending September 30, 2013 was $1,009,919 compared to $941,320 over the same period in 2012, a 7.3% increase. Net interest income decreased to $6,247,050 from the $6,456,327 reported in the first nine months of 2012. This decrease was a result of continued margin compression due to the extreme low interest rate environment. The net interest margin declined to 3.41%, down from 3.74% at September 30, 2012. On a per share basis, net income per common share (after the payment of preferred dividends) increased to $1.26 from $1.07 a year earlier.
Non-interest expenses decreased 4.4% to $5,624,063 from $5,880,488 in 2012. The provision for loan losses decreased to $288,646 compared to the $441,200 added in 2012. Dollins stated, "We have been able to reduce the contribution to the loan loss reserve as our assessment of the condition of problem loans continues to show improvement."
First Colebrook Bancorp, Inc. is a single bank holding company formed in 1985 and headquartered in Colebrook, New Hampshire. Its wholly owned subsidiary, First Colebrook Bank, was established in 1889. First Colebrook Bank operates four banking offices located in Colebrook, Concord, Amherst and Portsmouth, New Hampshire.
First Colebrook Bancorp, Inc.
Consolidated
Selected Financial Highlights
(Unaudited)
For the Nine Months Ending
9/30/13 9/30/12
Total Interest Income $ 7,314,238 $ 7,704,393
Total Interest Expense 1,067,188 1,248,066
Net Interest Income 6,247,050 6,456,327
Provision for Loan Losses 288,646 441,200
Non-Interest Income 1,058,941 1,127,360
Non-Interest Expense 5,624,063 5,880,488
Net Income 1,009,919 941,320
Net Income available to common shares 935,665 806,066
Earnings Per Common Share-diluted
Restated for 4 for 1 stock split in 2012 $ 1.26 $ 1.07
As of 9/30/13 As of 9/30/12
Total Assets $ 263,855,507 $ 247,403,204
Investments, net 41,483,645 33,663,088
Loans Receivable, net 180,336,170 177,998,181
Total Deposits 224,903,706 212,104,643
FHLB Advances & Borrowings 9,000,000 4,000,000
Stockholder's Equity 26,763,601 27,087,785
Book Value per Common Share
Restated for 4 for 1 stock split in 2012 $ 24.33 $ 24.77
Source: First Colebrook Bancorp, Inc.
For additional information, contact Peter H. Winship, Chief Financial Officer at pwinship@firstcolebrookbank.com or by calling (603) 228-1505.
###
This press release may contain forward-looking statements regarding the financial performance, business prospects, growth, and operating strategies of First Colebrook. For these statements, First Colebrook claims the protections of the safe harbor for forward-looking statements contained in the Private Securities Litigation Reform Act of 1995. Statements in this press release should be considered in conjunction with other information available about First Colebrook, including the information in the filings we make to regulatory authorities. Forward-looking statements are based on management's expectations and are subject to a number of risks and uncertainties. We have tried, wherever possible, to identify such statements by using words such as "anticipate," "estimate," "project," "intend," "plan," "believe," "will," and similar expressions in connection with any discussion of future operating or financial performance. Although management believes that the expectations reflected as such forward-looking statements are reasonable, actual results may differ materially from those expressed or implied in such statements. Risks and uncertainties that could cause actual results to differ materially include risk factors relating to the banking industry and the other factors detailed from time to time in First Colebrook reports publically issued. Undue reliance should not be placed on the forward-looking statements, which speak only as of the date of this press release. First Colebrook does not undertake, and specifically disclaims any obligation, to publicly release the result of any revisions that may be made to update any forward-looking statements to reflect the events or circumstances after the date on which the forward-looking statement is made, or reflect the occurrence of unanticipated events, except to the extent required by law.