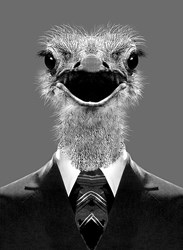 Opened in 1963, Renoma's boutique quickly became the salon-like destination for creative luminaries such as Andy Warhol, Salvador Dali, John Lennon, Bob Dylan and Eric Clapton.
New York, NY (PRWEB) October 29, 2013
Legendary French designer Maurice Renoma – having styled the likes of John Lennon, The Rolling Stones, Elton John and Serge Gainsbourg since the 60's – is synonymous with the unconventional. On November 14, Renoma will bring his iconoclastic style to New York City for the first time in the form of a unique photography retrospective of his work behind the camera over the last twenty years.
The exhibition at Bertrand Delacroix Gallery in Chelsea opens on the heels of the anniversary of Renoma's half-century of creation and innovation in Paris through his works and his celebrated boutique, White House. Opened in 1963, the store quickly became the salon-like destination for creative luminaries such as Andy Warhol, Salvador Dali, John Lennon, Bob Dylan and Eric Clapton. Renoma's designs were heralded as one of the centerpieces of the Yé-yé movement - the sensual style of pop music most notably associated with Gainsbourg, a loyal friend and customer.
Credited with putting France on the map for men's fashion, Maurice Renoma's revolutionary clothing evoked a sensuality that was a stark contrast to the austere, shapeless styles of the 1950s, a time when French men had the unfortunate reputation as being the worst dressed in all of Europe. This creative and revolutionary spirit continues into Renoma's provocative photography.
This exhibition will also be a precursor to Renoma's anticipated U.S book release in March 2014 by Abrams, a well-known publishing house of high quality art and illustrated books. The book, titled "One + One = Three," focuses on the story of Maurice Renoma and the influence he had on modern culture.
To complement the exhibit, several marketing partners have been secured to introduce Renoma to a wider audience, including Financier Patisserie, who will also be displaying the artist's photographic works in their ten Manhattan cafes, the French Institute Alliance Française (FIAF), and the Cultural Services of the French Embassy.
"Maurice is a French legend and his influence crosses many generations. His work continues to remain fresh after 50 years. I am thrilled that he is exhibiting in New York City. His fashion, designs and photography are well matched to meet the needs of the modern New Yorker," said Edgar Vaudeville, a global hospitality industry expert instrumental in the revival of NYC's famed Le Colonial. Most recently, Vaudeville is credited with opening the iconic cocktail bar at the Hotel Le Bristol in Paris and previously he was part of the W Hotel Group.
"Photography is an art and I have always tried to treat fashion as an art form too – no taboos or preconceptions. Touch and sight are my primary senses and the familiarity of fabrics guides me. I feel that I transform rather than create. Art is fluid and always changing and so is fashion. There is always room for improvement," said Maurice Renoma.
More information about MODOGRAPHE can be found at http://www.bdgny.com. The Bertrand Delacroix Gallery, 535 West 25th Street, New York, NY will hold its opening reception on Thursday, November 14th from 6:00 – 8:00 pm. RSVP is required.
Further information about Maurice Renoma can be found at http://www.renoma-paris.com.
For additional inquiries please contact:

Press interviews, images: Cassandra Hegarty, Regatta, 917-653-4038, chegarty(at)regattanyc(dot)com
Gallery information, opening details and pricing: Elizabeth Thompson, BDG, 212-627-4444, info(at)bdgny(dot)com