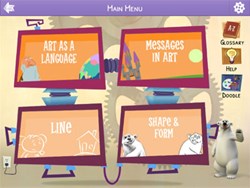 Apps with highest educational value support the "4Cs": Creativity, Critical Thinking, Collaboration and Communication.
Tampa, FL (PRWEB) October 30, 2013
Madcap Logic has been notified by Google, Inc. that their award-winning "Start With Art!' app has successfully passed review and is approved for inclusion in Google Play for Education. Google Play for Education highlights high-quality apps that are engaging, intuitive, and offer compelling content. Submitted apps are evaluated by a third-party educator network according to alignment with K-12 core standards and educational value. The initial launch of Google Play for Education is planned for Fall 2013; approved apps are currently available to a limited number of educators through the pilot program.
Art is notably absent from both the Common Core Standards and STEM Education. Further, the subject 'Art' is noticeably missing from the 'Education' category of the iTunes App store. The current U.S. educational system has pushed aside the cross-curriculur study of Art in favor of individual subject focus. Many educators and parents are pushing for a move from STEM to STEAM, citing the need to include Art and Design in K-12 education to foster creativity, innovation and economic growth.
Today's educational environment is focused on measurable results achieved through standardized test scores. Despite studies that show art education to be a valuable gateway to the development of higher-order, critical thinking skills, it is commonly cut from schools' core curricula.
Art does not live in a vacuum, but rather reflects the personal and historic context in which the artist lived, including the artists' social status, the inventions of the time period and other scientific advancements and understandings of that age. Hence, quality art lessons are able to make important cross-curricular connections to history, math, science, writing, and other disciplines.
Google, Inc has taken an innovative, forward-thinking step with the addition of 'Start With Art!' to their curriculum offerings. Including 'Start With Art!' in Google Play for Education, has clearly shown Google's desire to provide children with the essential skills developed through exposure to art education.
About:
Madcap Logic was founded in 2003 by former animators from The Walt Disney Company with a vision to re-define Art Education.
Collaborating with professional educators they produced Creativity Express, a multi-award winning online curriculum that meets the National Standards for the Visual Arts. Sixteen cross-curricular lessons teach the elements and principles of art, with an added focus on empowering kids' inner creativity, imagination and critical thinking skills.
The first App release, Start With Art!, contains the first four introductory lessons of Creativity Express, suitable for ages 7-97. 'Start With Art!' is available in the App Store and on Google Play.