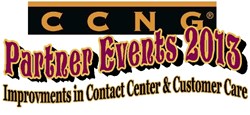 CCNG regional partner events bring out the local area customer contact management to connect and share peer perspectives on a more intimate level.
Salt Lake City Utah (PRWEB) October 29, 2013
CCNG International Inc. is pleased to announce a Regional Partner Event in Salt Lake City, UT on November 7, 2013 hosted by the FamilySearch call center operations, located at 550 E. North Temple, Joseph Smith Memorial Building, Salt Lake City.
This CCNG regional partner event sponsored by inContact is for the benefit of Utah area contact center, call center, customer service and customer experience mid-level management to discuss challenges and best practices relating to At-Home Agent Programs for an International Contact Center. The host presentation by Penney Devey, Global Director of Program Management, will focus on key successes with the at-home programs at FamilySearch.
"CCNG regional partner events bring out the local area customer contact management to connect and share peer perspectives on a more intimate level," says David Hadobas, President and CEO of CCNG International Inc. "This agenda allows for a high level of participation from all attendees and a personal connection with the host and industry colleagues."
The FamilySearch Story:
Our commitment to connect ancestors
The Church of Jesus Christ of Latter-day Saints is the primary benefactor for FamilySearch services. Their commitment to helping people connect with their ancestors is rooted in our beliefs—that families are meant to be central to all lives and that family relationships are intended to continue beyond this life. They hold that all family members—those living, those past, and those future—share an enduring bond that reaches across the generations. To FamilySearch this means that families are forever, and an important part of acting on this belief is doing family history.
Following the host presentation will be interactive breakout discussion groups with all attendees, to share ideas and experience implementing successful remote workforce/at-home agent programs for call center operations. Breakout groups will be facilitated by CCNG members, representatives from FamilySearch and inContact.
Listen to a recent webcast interview with inContact's Michelle Burrows, VP Demand Marketing.
About CCNG Partner inContact:
inContact provides flexible cloud-based software helps contact centers efficiently support their customers with personalized interactions. The result is high customer satisfaction, low attrition, and brand loyalty.

Recognized leader and cloud pioneer.
Industry's best-published service level agreement of 99.99%.
1300+ call center deployments.
Used by 85,000+ agents globally.
Over one billion calls handled per year.
Over 100 integrations to top CRMs.
More industry experience than any other contact center cloud vendor.
Visit inContact(dot)com for more information.
For details on how to attend this regional event and guest pass availability, contact Ginger Graber, ggraber(at)CCNG(dot)com.
View details on the CCNG event and registration page.
CCNG International Inc.
Founded in 1992, CCNG is a member Professional Peer Network (PPN) for contact center and customer care executives, management and leaders. Our mission is to connect colleagues throughout the industry and spread success. CCNG members share best practice insights and experience with peers from top contact center organizations throughout the industry.
Benefits of Joining the CCNG Network:
o Build and expand a network of valuable professional relationships with contact center leaders and award-winning organizations throughout the industry.
o Leverage the knowledge of an industry-wide network of experts and peers.
o Showcase top performing people and programs to build industry recognition and support operational excellence within your organization.
o Explore new ideas. Build more effective programs, raise performance, and reduce risk throughout your organization.
CCNG offers events, programs and resources to all levels of contact center, customer care and customer experience professionals. This is how good customer focused and contact center organizations continue to get better. For more information about CCNG, please visit CCNG.com. "Like" CCNG on Facebook and follow CCNG on Twitter.