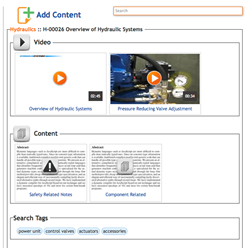 'We are always looking to improve iSchematic and make using the application more intuitive for workers in the field,' said Brad Jensen. 'The features we've added help technicians quickly find pertinent information so it can provide aid to the job at hand.'
Buffalo Grove, Illinois (PRWEB) October 29, 2013
IntelliSchematic has released the newest version of iSchematic, its machine-specific troubleshooting and training resource. The latest update includes enhancements to the search feature within the Resource Library to allow for ease of navigation through the wiki-like information center. These updates are designed to help clients better incorporate iSchematic into their maintenance and troubleshooting procedures.
Technicians can now easily search for machine documentation, video animations, and component information by entering dynamic keywords and custom tags. Extending the search capabilities to include tagged information within the results generates a more comprehensive listing of information. Furthermore, technicians can effortlessly drill down into five main component categories and an expanding list of available topics.
"We are always looking to improve iSchematic and make using the application more intuitive for workers in the field," said Brad Jensen, President, IntelliSchematic. "The features we've added help technicians quickly find pertinent information so it can provide aid to the job at hand."
Along with the changes to the Resource Library, the process for uploading content has also been streamlined. Clients can now add facility-specific documentation directly to a Resource Library subject in order to efficiently contribute to the information available to their technicians.
The web-based iSchematic connects people to the processes in any facility. This interactive gateway allows workforces to interact with machine and system information while giving supervisors a platform to perform updates and additions. The improved iSchematic application provides workers the information they need to troubleshoot the machines in their facility more efficiently.
About IntelliSchematic: IntelliSchematic, and sister company TPC Training Systems, are a divisions of Telemedia, Inc. – a privately held company located in Buffalo Grove, IL. Leaders in technical, safety, and machine-specific training, IntelliSchematic and TPC have trained over 3.2 million workers at 35,000 companies by employing proven resources rooted in employee development. IntelliSchematic utilizes technology to deliver machine-specific information, training, and process knowledge to workers in any industry.
For additional information about IntelliSchematic and iSchematic visit ischematic.com. You can also contact us at 800-837-8872.