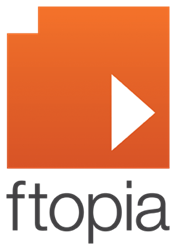 Paris, France (PRWEB) October 31, 2013
Founded in 2009, ftopia delivers file sharing and synchronization services running on AWS and Openstack-powered clouds. ftopia technology, based on open-source components, enables businesses to store and share information in a simple and secure environment, via a web application, mobile apps and desktop synchronization. The company serves about a hundred customers across Europe and North America.
Cloudwatt, a new European Cloud Computing provider founded, offers to businesses of all sizes efficient and innovative solutions for data storage and computing, with a strong focus on security, transparency and reversibility.
File sharing and syncing is a rapidly-growing market, dominated by US vendors today. With Cloudwatt-box, the file sharing solution using ftopia technology and integrated in Cloudwatt's secure infrastructure, European organisations will benefit from a genuine alternative.
"Collaborative synchronization and file-sharing applications are key drivers for cloud adoption by businesses," explains Patrick Stack, President of Cloudwatt. "We wanted to offer a solution that is innovative, professional and perfectly integrated within our secure infrastructure. This is why we have selected ftopia technology and developed a strategic partnership."
"Online file sharing services have transformed the way organisations operate. They are now an essential factor of productivity," says Philippe Honigman, President and Founder of ftopia. "We are excited to be part of this project with Cloudwatt and thus contribute to the growth of the European digital economy."
About ftopia
ftopia is a Software as a Service (SaaS) provider based in Paris, France. Incorporated in 2009, ftopia harnesses cloud computing to deliver innovative, scalable, secure, and cost-efficient online file-sharing solutions to professionals and businesses. Our goal is to enable professional users to share information easily, securely, and instantly with their teammates, customers, and partners – no matter where they are or what network endpoint they use. ftopia is a privately-held company with offices in Paris and San Francisco.
Press contact for ftopia: press(at)ftopia(dot)com - US +1 (888) 414-8768
Press contact Cloudwatt : gbravais(at)aromates(dot)fr - FR +33 (0) 146 991 089