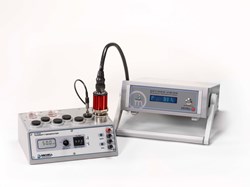 Rowley, MA (PRWEB) October 29, 2013
Michell Instruments now offers a battery pack for their S503 Humidity Calibrator which provides 12 hours of continuous use from a single charge. This battery pack allows for a full day of calibrations to be completed on-site without recharging. This is a unique feature not currently offered for any similar calibrator on the market. The S503 provides true portability, allowing the calibrator to be used where the job is, even if power is not available.
The S503 portable humidity calibrator from Michell Instruments is a practical, affordable and flexible solution for calibrating RH sensors. It can be used by most service staff as no special training is necessary. Due to its ease of use, a 3-point calibration can be carried out in about an hour. The S503 in combination with a Michell Chilled Mirror Hygrometer, such as the Optidew Vision, offers a transportable and traceable, total humidity calibration system.
- END -
About Michell Instruments
Michell Instruments Group is a worldwide leader in the field of moisture and humidity measurement solutions. With almost four decades experience, Michell designs and manufactures a wide range of sensors, instruments and customized systems capable of measuring dew-point, humidity and oxygen in applications and industries as diverse as compressed air, power generation, petrochemical, oil and gas, food processing and pharmaceutical. Michell's innovative products make processes cheaper, cleaner, more energy efficient and safe.
The Group has multiple manufacturing locations with their international headquarters located in Ely, UK and a North America sales and service headquarters located in Rowley, MA. It has its own facilities in 10 countries with an extensive network of factory trained application and service engineers, subsidiaries and distributors stretching across 56 countries.