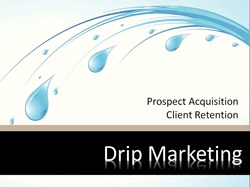 "This workshop [Business Owner Consulting Workshop] was one of the most informative and interesting workshops I have attended. Ed's anecdotes were on point and his presentation was very well done." - Ron. W. Whited – Virginia Beach, VA
Middletown, OH (PRWEB) October 31, 2013
Impact Branding is a new workshop developed to help the financial consultant discover their own brand and how to build it. The workshop reviews the cumulative cycle of branding and how it effects every aspect of client interaction from before the initial approach through the adivsor followup service.
"The competition for your clients is increasing," acknowledges Ed Morrow, Chairman of the Board of the IARFC and author of the Impact Branding Workshop. "A strong brand projects your passion and commitment to clients and prospects."
The attendees are given a real world checklist to start building their own identity. The list breaks down the branding journey in manageable tasks and time. Attendees will walk away with a plan to positively project a favorable image.
The Drip Marketing Workshop reviews the main purpose for the Drip project, how to approach it as a whole and how to make it more effective. The ultimate result is for the advisor to develop a bond with the prospect which motivates them to grant an appointment and a presentation. "An effective Drip Marketing Campaign should warm up your prospect, attract their interest in the topics presented and build a prospect's respect for the consultant's knowledge," states Morrow.
Participants for this workshop will receive a targeted business owner sequence including 15 letters, 15 articles and 3 phone scripts.
Prior to the roll out of the two new programs on the 15th of November, the IARFC will also be holding a Business Owner Consulting Workshop. Past participants have found this program to be of significant help when marketing to the business owners - an underserved market. The important part of this program is that the attendee will take home practical tools to start their efforts immediately.
All three of these workshops work together to grow your business, focus on different segments of the market and brand you as "the professional" in the financial services industry.
For more information on all of the above workshops, visit our workshop page on the IARFC website. For additional information, call Amy Primeau at 800 532 9060 ext. 307.